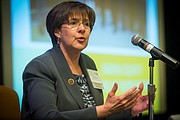 On Friday, March 10, Leadership Fairfax (LFI) held its annual Breakfast with the Fairfax County Board of Supervisors for the 26th time. The county's governing elected officials are usually only captured on film in their professional personas, but this time each supervisor was announced in the style of a college hoops star a la March Madness. One after the other they high-fived, fist-bumped and attitude-gestured with an LFI partner as they made their way to the dais.
There were more laughs during the "Ask the Supervisors" portion of the program, particularly when the speakers were asked to name their favorite childhood snack food. Supervisor Kathy Smith, Sully District, confessed to something with white bread and sugar to looks of horror from some of her colleagues.
Moderator Casey Veatch, principal of Veatch Commercial Real Estate, balanced humorous interludes with serious questions. The supervisors were called upon to highlight some of the county's successes in 2016, as well as the obstacles that were faced and that may still lie ahead. "We're going to get news you can use today. No fake news here," he said.
CHAIRMAN SHARON BULOVA rose to the challenge of presenting a State of the County address in less than three minutes. The establishment of a civilian Police Review Panel, whose nine members were recently announced, was one of the year's high notes, according to Bulova. The panel "will act as an independent portal for residents to submit concerns or complaints and will promote further transparency in our community policing," she said.
Bulova also spoke of the success of the Diversion First program, which kept 375 people from potential arrest in 2016. Diversion First is designed to seek alternatives to incarceration for persons with mental illness or developmental disabilities who come into contact with the criminal justice system for low-level offenses. "It's the right thing to do," she said, "to get people assistance instead of jail time where possible," and it also saves county dollars and police resources.
After Bulova's remarks, Veatch called for a "speed round," with each supervisor commenting on an important project, event, or challenge. Some of their responses included:
John Cook (Braddock) – Continuing the work of the Diversion First program.
John Foust (Dranesville) – Economic Growth Fund. Foust supports providing start-up and entrepreneurial funds and "maker spaces" to make Fairfax a leader in diverse economic innovation. He encouraged everyone to read the county's economic success strategic plan.
Penny Gross (Mason) – Environmental protection and energy efficiency are critical, particularly with threatened cuts to the Environmental Protection Agency and similar organizations.
Pat Herrity (Springfield) – The growing opioid abuse and deaths crisis. "It's in your neighbourhood. A partnership for awareness, prevention and treatment" is needed.
Cathy Hudgins (Hunter Mill) – Washington Metropolitan Area Transit Authority (Metro) improvements. "We need to remember that 1.1 million services were provided during the Inauguration and the Women's March in January without incident," but there are no federal funds for maintenance and operations for Metro, although 45 percent of its riders are government workers. "We need everyone involved in the funding."
Jeff McKay (Lee) – "One Fairfax is one of the most important things we've done." In a joint resolution with the Fairfax County Public Schools Board, the supervisors passed the written policy that demands all policies and decisions be put to the test, using a "lens of equity." "A zip code shouldn't determine your potential," McKay insisted.
Kathy Smith (Sully) – Working on the Fairfax County Zoning Ordinance, which hasn't been amended since 1978. "There are processes to make changes, but it takes too long and inhibits growth." And, she noted, "We're getting a Wegman's in Sully District,"
Linda Smythe (Providence) – Continue efforts to revitalize communities like Merrifield. "Has anyone been to Mosaic? That's what can be done."
Daniel Storck (Mount Vernon) – Promoting public/private partnerships that are having significant success in his district with "gateway projects" and school innovations.
IN ADDITION to putting the Board of Supervisors on the hot seat, this annual event is also the time when the Katherine K. Hanley Award for Public Service is presented. The award's namesake, former Fairfax County Board Chair and Secretary of the Commonwealth Katherine Hanley, was on hand to bestow this year's honor on Patricia Harrison, Fairfax County deputy executive.
With 30 years of service in Fairfax County, Harrison, who oversees the county's human services agencies and programs, "has played an integral role in improving the lives of families in our community," said co-presenter Rodney Lusk of the Fairfax County Economic Development Authority and an LFI alum.
Leadership Fairfax offers three different educational programs: The Signature Program, the Emerging Leaders Institute and the Lifetime Leaders program for those newly retired or preparing to retire. See www.leadershipfairfax.org for more information.