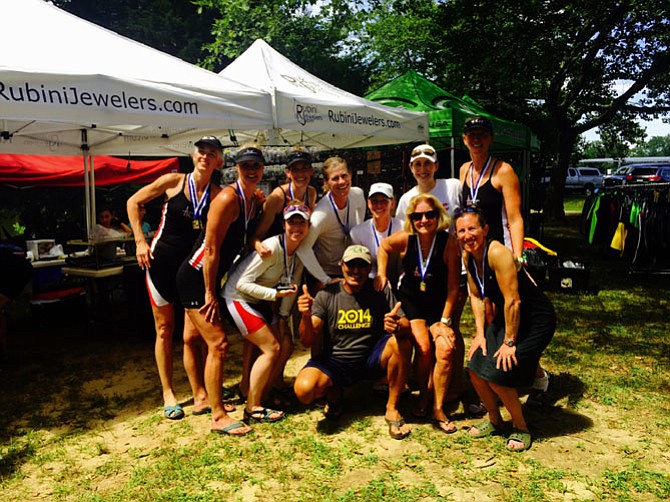 As the world watched the U.S. Women's coxed 8 dominate in Rio this summer, the local women of Alexandria Community Rowing (ACR) club's competitive sweep team have steadily earned their own gold in local, regional, and national regattas.
Almost every morning before dawn, the club's 175 members can be found gliding over the Potomac River in fiberglass shells housed in the Dee Campbell Boathouse (One Madison Street).
More than two dozen of those rowers — women aged 23-61 with between 3 and 25 years of rowing experience — tackle intense water and land training to prepare a racing season that extends April to November. Coached by Jaime Rubini, the women's masters team rows in boats of 2, 4, and 8 rowers to prepare for the summer sprint (1,000 meters) and fall "head" (5,000 meters) races.
Logging thousands of meters in practice has paid off for this tight-knit team. ACR women have collected 16 first-place medals in more than eight regattas this summer alone. Alexandria's team competed in local regattas in D.C. and on the Occoquan, as well as regattas in Philadelphia and Middletown, Delaware.
The women's 8+ took gold at Stonewall Regatta, Schuylkill Navy Day, Row for the Cure and Occoquan Sprints. First place finishes in the women's 4+ events occurred at Stonewall, Schuylkill Navy, Row for the Cure, Capital Sprints, Occoquan Sprints, and Diamond States Masters Regatta. ACR's women's pair placed first in three regattas.
ACR offers adult learn-to-row, novice and competitive programs in both sweep rowing and sculling. In sweep rowing, each rower has one oar; in sculling, each rower controls two oars. The programs are designed for all skill and experience levels and intended to improve fitness, technique, and competitive spirit. Visit www.rowalexandria.com to learn more and connect with a coach.