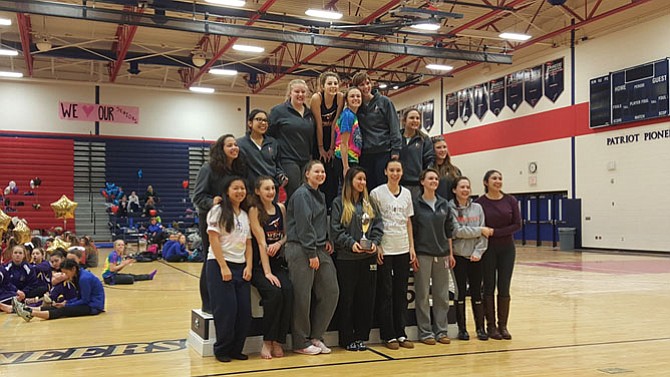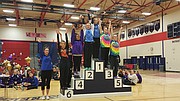 West Springfield head coach Diana Edgell came to a pair of conclusions while observing during the 6A North region gymnastics meet.
1: The Spartans probably weren't going to win.
2: The Spartans performed well enough to compete with the best of the rest.
If Edgell was correct on both accounts, it would leave just one scenario in which West Springfield's season would continue beyond Saturday's regional meet: a second-place finish, which comes with a state berth.
A talented and deep Yorktown team would be announced as region champion. The Patriots produced a score of 146.05, nearly 2.5 points better than their closest competitor.
Moments before the winner was announced, however, Edgell's observations proved to be right on the money.
Members of the West Springfield gymnastics team celebrated on the gym floor at Patriot High School after it was announced the Spartans had finished second at regionals on Feb. 13. Nine days after winning the Conference 7 title ­­­ the program's first conference/district championship since 2007 ­­­ West Springfield produced a score of 143.575 at regionals and earned a spot at the state meet on Friday, Feb. 19 at Kellam High School in Virginia Beach.
"We didn't know. We had no idea where we would be," said Edgell, a 2003 West Springfield graduate and former cheerleader. "I was pretty sure we weren't going to win. After that, it was anyone's game. We really had no idea, so it was pretty exciting that we pulled it out. ... I thought we were doing well, and so I knew that if we did well, that we could have a chance. If we scored a little better, if we cleaned up some things on some different events that we did have a shot. I was pleased to see the improvements that we made."
Defending state champion McLean finished third with a score of 142.625, followed by Battlefield (141.25), Lake Braddock (139.625), Osbourn Park (139.625), Chantilly (133.525) and Oakton (130.225).
West Springfield sophomore Abbie Levine produced an all-around score of 37 and qualified for states with a third-place finish.
"She actually didn't have that great of a meet for her, so I was thrilled that she was able to qualify and will hopefully have a better meet at states, redeem some of the mishaps she had today," Edgell said. "She's just great. She's fearless and determined and always positive. She never gets down on herself. She always believes in herself and that's what I expect from her and she delivers."
Levine finished second on floor (9.525), placed fourth on vault (9.45), tied for sixth on bars (8.875) and finished ninth on beam (9.15).
"I feel very proud of myself," Levine wrote in an email, "and it makes me excited to know that there was room for improvement because I fell on two events."
Spartan freshman Hannah Dotson tied for sixth in all-around with a score of 36.55. She qualified for states as an individual on bars, placing second with a score of 9.5.
"Hannah Dotson was awesome," Edgell said. "She's a freshman and has no high school competitive experience. The fact that she can come in and can qualify individually on [bars] is just awesome. I'm super proud of her."
West Springfield freshman Alex Marsden qualified for states on beam, tying for sixth with a score of 9.35.
Abby Stout also competed for West Springfield.
"I'm so proud of them," Edgell said. "They lived up to every potential that they had and I couldn't be more thrilled for the girls because they've really worked so hard to get it."
After Friday's team competition, the individual state meet will be held Saturday, Feb. 20 at Kellam High School.
"I was on the team last year as well as this year and I can definitely see huge improvements," Levine wrote. "Not only because we added more people but because our team is more bonded and we're working together better. Personally, I've noticed that I am more motivated to do well this year. I'm having more fun with this sport that I previously did not have."
What are Edgell's expectations for states?
"I want to go and have fun," she said. "Other than that, I don't know. I know there's going to be a lot of really amazing gymnastics, a lot of really talented gymnasts there, so I just want to go and have fun because it's incredible that we've made it this far."