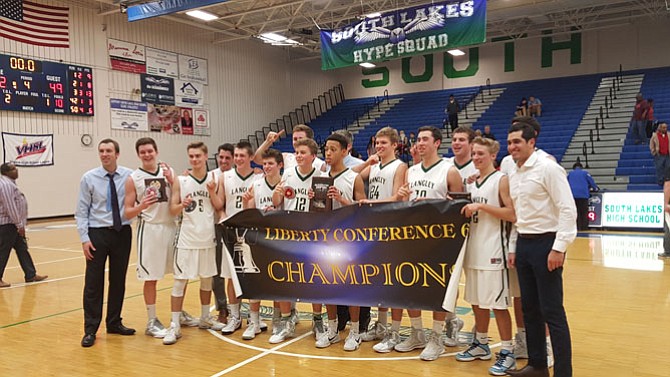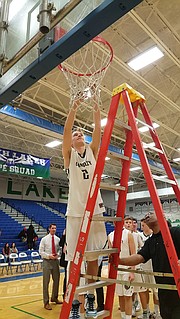 After wearing out the nets with his perimeter shooting, Langley junior Chas Battaglia helped cut one down in celebration.
Battaglia hit four 3-pointers, scored a game-high 16 points and helped the Langley boys' basketball team defeat South Lakes 52-49 in the Conference 6 tournament championship game on Feb. 20 at South Lakes High School.
The Saxons trailed 33-25 at halftime and were down 10 early in the second half but started a comeback with a 9-0 run that consisted of 3-pointers by Battaglia, Grant Hughes and Colter Carton. With the score tied at 39, Hughes buried a 3-pointer with 1:18 remaining in the third quarter that gave Langley the lead for good.
The Saxons finished with nine 3-pointers, including five in the second half.
"When we shoot, we're the best team around," Battaglia said. "There's no stopping us, because we have [6-foot-5 Conference 6 Player of the Year] Nate [Shafer] down low and if we can shoot around the perimeter I think we're one of the best teams out there."
Battaglia knocked down a pair of free throws with 1:01 remaining to extend Langley's lead to 50-44.
The junior guard earned tournament MVP honors.
"He was just huge," Langley head coach Scott Newman said. "Once he got in rhythm, made a few shots ... he has grown tremendously over the course of the season. I'm just really proud of him."
Langley also got a key defensive play down the stretch from senior guard Tavon Tarpley.
The Saxons led by two when Tarpley stepped in a passing late and came up with a steal. Carton made one of two free throws, extending the lead to three with 7.6 seconds left, and South Lakes missed a potential game-tying 3-pointer at the other end.
"I saw his eyes all the way through," Tarpley said. "... Coach told me not to gamble the whole game. At the last second I gambled ... [and] I got it."
The victory was Langley's 14th in 15 games during the 2016 portion of its schedule. The Saxons went 13-1 against conference opponents during the regular season and earned the No. 1 seed in the conference tournament.
After earning a trip to the championship game with victories over McLean and Washington-Lee, the Saxons beat South Lakes to win the program's first conference/district title since 2011.
Five players scored points for Langley on Saturday, but each scored at least seven. Along with Battaglia's 16 points, Shafer and Carton each scored 10, Tarpley finished with nine and Hughes added seven.
"To be honest with you, that has been the secret to our success all season long," Newman said about Langley's balanced scoring. "So many high school teams have a few guys that can make plays. We have maybe eight, nine, 10 guys that on any given night can make plays. It's a little bit of a puzzle for us to find the perfect combination each night, but when we do, it's a handful for our opponent."
Sophomore guard Damon Johnson led South Lakes with 13 points. Freshman guard Cameron Savage finished with nine points and senior guard Marty Gryski added eight.
Langley hosts Herndon at 7:30 p.m. tonight in the opening round of the 6A North region tournament.