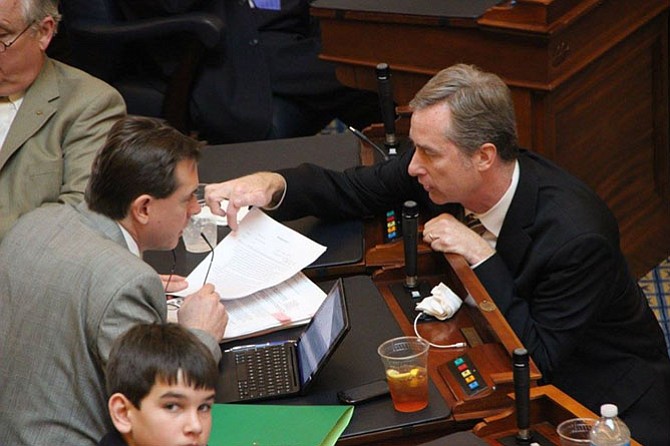 Tuesday, Feb. 16 marked "crossover," the milestone during the current session of the Virginia General Assembly session in Richmond where bills passed by the House of Delegates move to the Senate for debate and either approval or rejection, and vice versa.
While many are just beginning their time in the alternate governing body some fast-tracked bills such as Del. Eileen Filler-Corn's (D-41) "Return to Learn" bill, that would establish protocols for children who've battled cancer to reintegrate back into school, have already passed both houses and landed on the desk of Gov. Terry McAuliffe (D). McAuliffe then can choose to sign, veto or send the bill back with notes.
Filler-Corn has brought forward similar bills previously for establishing guidelines for students with concussions returning to the classroom. For this new iteration, "We had a group of stakeholders, some educators, education consultants come together," she said, "and said we really do need something like this."
Reflecting on this session at its midpoint, Del. David Bulova (D-37) said a strong theme of several hotly contested bills "has come down to state versus local control."
Bulova gave two examples, including Senate Bill 549, which constricts localities' options with regards to rezoning proffers, as well as one that would put regulatory framework around the social lodging business Airbnb. "They want to basically trump the ability of localities to further regulate these businesses," Bulova said. "But it's easier to be managed at one level -- instead of by states, by counties. When something goes wrong" with a local customer's experience, Bulova continued, "they're not going to go to a state legislator."
Other legislators are impressed with some of the compromises and progress the two bodies have been able to make, despite the party line.
Del. Vivian Watts (D-39) is optimistic about the resolution that was reached concerning I-66, including widening the Dulles Access Road to Ballston to relieve the major bottleneck there. The plan would make it more integrated with bus and other rapid transit, including dynamic tolling based on the time of day and direction of commute.
"We're all going to look back on this in ten years, and think regionally, things move better," Watts said. "It's 'Compromise, compromise, compromise,' rather than 'Over my dead body.'
Additionally, Del. Mark Sickles (D-43) said the General Assembly has been able to make less partisan moves to "claw back from the cuts we made prior to the recession." Some of those include allocations for Dulles Airport and maintaining the United Airlines hub, capital equipment and expenditures at the new Inova Center for Personalized Health, as well as $7 million of additional funding for Fairfax County Public Schools, which is looking at a $68 million difference between the budget adopted by the School Board and the County budget proposed last week by County Executive Edward Long.
"It's going to help, a lot," Sickles said, "but not going to get to the bottom line, at least what the school system is looking for."
Gone, but Not Forgotten
Representatives highlight significant bills that have already "died" or may not move beyond the second round.
Del. David Bulova (D-37)
Senate Bill 734 would allow the Virginia Board of Education authority over local School Boards to establish charter schools, even if that organization isn't in favor of it. "It's a classic example of state versus local control," Bulova said. "It's a question of whether an unelected body at the state level should be able to second guess those officials." Though the bill narrowly passed the House, Bulova doesn't expect it to reach Gov. McAuliffe.
Del. Eileen Filler-Corn (D-41)
House Bill 474 was tabled in the House Committee on Rules. It called for requiring a study of criminal background checks for childcare providers. Though the bill was tabled, a letter is being sent to the Commissioner of the Department of Social Services to enact such a study anyway. "In the end, we're going to provide that study," said Filler-Corn, "and do that research, continue to persevere and make a difference."
Del. Tim Hugo (R-40)
Two of Hugo's education bills were left dead in the Education Committee, including House Bill 863, that would have required public Virginia universities to reserve 75 percent of undergraduate spots each year for residents of Virginia, and House Bill 847, which would have prohibited public universities from using funding from the Commonwealth of Virginia to offer tuition assistance to non-Virginia students. "We want our kids to have the opportunity to go to school here," Hugo said. "They're only going to let in so many kids from Robinson, Centreville, Westfield, no matter how great the grades are. It's a problem. William and Mary and UVA admit approximately 40 percent out of state students each year, and that's wrong."
Del. Paul Krizek (D-44)
House Bill 623 died in the Commerce and Labor Committee, and called for raising the minimum wage beyond the federal mandate to $10.10 per hour, effective July 1, 2016. Krizek's plan exempted small businesses (with fewer than 15 employees) as well as employees younger than 25. "I don't think people working a 40-hour work week should be forced to accept public assistance or charity to survive," Krizek said. "And that's what's happening, especially in northern Virginia."
Sen. Chap Petersen (D-34)
Senate Bill 238 focused on home-based child care. "It would've allowed home-based child care to keep their businesses," Petersen said, "and give them a protection from being shut down if they have a dispute with their Homeowners Association. I expect to bring that back."
Del. Mark Sickles (D-43)
House Bill 1029 was intended to give grants for facilitating teaching "critical languages" currently in high demand at the U.S. State Department and other international organizations. It would've helped set up classrooms and find the harder to locate teachers for Russian, Arabic, Hindi and several other languages not traditionally taught in school. "I really fell in love with this bill, Sickles said. "You shouldn't fall in love with your bills. There are bonuses and incentives in all our foreign policy agencies if you can speak one of the languages that are hard to find. I thought this was a no-brainer as far as a jobs bill, economic development bill. I'm going to keep working on that."
Del. Vivian Watts (D-39)
Del. Watts introduced a number of bills, a "real full-court press," in the House of Delegates focused on reforming problems with the school funding formula that's based more on property values and less on per capita income. Though Watts got to address a hearing before two different budget committees, they've had tough sledding. She sees it as a major statewide change that could take four to five years to push through.
"We need to really deal with the problem of local taxing power not matching what the school formula says is our ability to pay," Watts said. "Forty percent of school children of my district are entitled to free and reduced lunch. That's a fed program that has federal definitions of poverty that are the same in downstate Illinois as Northern Virginia. You know these kids aren't going home to Internet access, to a parent that can read them the bedtime story, or didn't come to school with a parent that took them to see the world. We really have a tremendous challenge to work with, with a funding formula based on averages for all of Fairfax County that look like we can handle it. We're dealing with a tax base that dates all the way back to the 1700s."