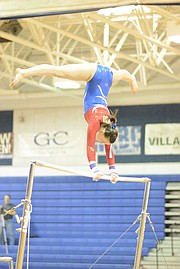 T.C. Williams junior Cailyn Lager is the last remaining gymnast from the Titans' 2014 Conference 7 championship team — the school's first complete gymnastics team in three decades. While TC likely won't be taking home a team title this year, Lager has continued experiencing individual success.
Lager won the all-around during a meet on Jan. 20 at West Potomac High School. She produced a score of 36.275, besting runner-up Abbie Levine of West Springfield by two-tenths of a point.
Lager placed first on vault (9.5) and beam (9.25), second on floor (9.1) and fourth on bars (8.425).
"I think I did well," Lager said.
Lager, a club gymnast for Arlington Aerials, added a Yurchenko Pike vault and full floor routine to her high school repertoire.
"She's coming on right now," TC coach Pete Novgrod said. "That's the first time we threw the Yurchenko for high school — we've been holding that back. She stuck that pretty nice. Her shoot on bars is still a little rough; we're still having trouble timing that. ... It's the first time she's thrown a full in high school, ever ... on floor."
Lager said executing the Yurchenko Pike is more of a mental challenge than physical.
"No. 1 thing is you can't hold back," Novgrod said. "You've got to be aggressive. Gymnasts have a tendency to wait until they get their first move onto the table and say, 'OK, this feels good enough, I can go.' If they do that, they're going to land short every time. They've got to make their mind up from back there that they're going."
West Springfield won the team competition with a score of 133.675. T.C. Williams did not have a full team competing at the meet.The Conference 7 meet is scheduled for 6 p.m. on Thursday, Feb. 4 at West Potomac High School.