Reed Moshyedi and other members of the Churchill boys' basketball team could have made things easier on themselves, but the end result was another win for a group with growing confidence.
In a tight contest against Einstein, the Bulldogs shot 10-for-22 from the free-throw line during the fourth quarter and overtime. But thanks to six points from Moshyedi in the extra period and a bucket by Brad Leventhal with 27 seconds remaining, the Bulldogs pulled out a 65-64 victory over the Titans on Jan. 21 at Churchill High School.
The teams went to overtime tied at 55, and after a Joey Curtin 3-pointer gave Einstein a late lead, Leventhal's layup put the Bulldogs ahead to stay.Moshyedi scored a team-high 18 points for Churchill, but the sophomore shot 8-for-16 from the foul line, including 4-for-8 in the fourth quarter and overtime.
As a team, Churchill finished 17-for-35 from free-throw line.
"I don't know what it was tonight," Moshyedi said. "Maybe just a little nervous or something, but [free throws] just weren't dropping a lot tonight in the clutch."
Despite struggles from the foul line, Churchill extended its win streak to five games in 2016, with four victories coming by a six-point margin or smaller.
The Bulldogs defeated Walter Johnson, Whitman, Bethesda-Chevy Chase, Rockville and Einstein by an average of 5 points, with only the victory over Whitman (54-40) coming by double digits.
What is it about the Bulldogs that helps them pull out close games?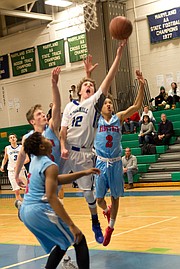 "I think, especially coming from last year when we struggled so much, I think we're really hungry for wins now," Moshyedi said. "We're sick and tired of losing. We lost a bunch of games early to start the year. Once we started winning ... I think we've just taken off from there."
Churchill finished 11-12 in 2013-14 under then-first-year head coach Robert Bean. The Bulldogs posted a 4-18 record last season, and started the 2015-16 campaign by dropping three straight and five of its first seven.
But the Bulldogs, now 8-6, are playing with a different mindset of late, thanks in part to a strong performance against Whitman and a one-point win over B-CC that ended with a buzzer-beater by junior guard Jared Robinson.
"Their confidence level has gotten a lot higher," Bean said. "When things don't go our way we're no longer thinking that, 'Oh, here we go again.'"
One reason for Churchill's success has been the play of Moshyedi. The 6-foot-3 sophomore, who is committed to play lacrosse at Brown University, scored 10 of his 18 points against Einstein in the fourth quarter and overtime.
"Reed's just a great, great competitor," Bean said. "He's a great athlete and he just makes the players around him better because of those attributes."
Junior forward Michael Schutz and senior center Nathan Gertler have been key contributors at the defensive end, Bean said. Schultz is usually matched up on an opponent's best player, and Gertler, listed at 6 feet 9, helps control the paint.
Robinson scored 14 points against Einstein and senior guard Jon Wilson added 11.
Leventhal scored nine points and Gertler had eight for the Bulldogs.
Churchill will travel to take on Wheaton at 10 a.m. on Saturday, Jan. 30.
"[Winning close games] lets our team know we can win anything against anybody," Moshyedi said. "We beat the past two state runner-ups from Montgomery County (Whitman, B-CC) and when you win those games you get a lot of confidence."