If the thousands of dogs who have passed through the Vola Lawson Animal Shelter over the last four decades could talk, many would recall the calm voice and gentle hand of volunteer Ellen Flynn. Ms. Flynn first served as a volunteer at the original Alexandria shelter location on South Payne Street, beginning in September 1971. "I took my sick dog into the shelter and immediately liked the place — and decided to volunteer," Ms. Flynn remembers. She never left.
Ms. Flynn soon became a fixture of the volunteer corps and especially enjoyed taking care of the dogs. In those days, she said, volunteers did nearly everything — bathing dogs in a big tub, walking them along a nearby canal, and helping put on the "canine games," an annual fundraiser featuring competitive events for dogs that took place in a park under the Woodrow Wilson Bridge. Besides volunteering, Ms. Flynn served for several years on the board of the Animal Welfare League of Alexandria (AWLA), which operates the shelter.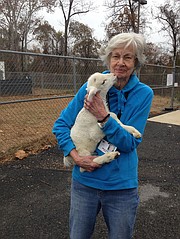 Some 150 volunteers assist the AWLA staff today, many of them having dedicated hundreds of hours to the shelter over the course of several years. Volunteers do just about everything that's needed to keep a busy animal shelter going — socializing animals, helping with adoptions, cleaning cages, keeping up with laundry and working at special events, among other duties.
These days Ms. Flynn can be found at the shelter on Monday afternoons, helping to socialize the dogs who are waiting for adoption and assisting would-be adopters."I love being up-close and personal with dogs — I just think 'dog,' " Ms. Flynn said. She also organizes the donation jars positioned in shops around Alexandria to benefit the shelter.
Eleo Worth is another pillar of the shelter's volunteer program. Ms. Worth became interested in the Payne Street shelter in the 1970s after adopting two cats there, and 40 years later she still puts in a weekly shift in the shelter's cat room, helping to socialize and adopt out felines. Ms. Worth, who also served on the AWLA board a few decades back, recalls that at the Payne Street shelter cats didn't wait in spacious cages to be adopted, as they do now; instead, they roamed free in a zone known as "kitty city." Ms. Worth volunteered with both cats and dogs in those days, a time when many unwanted animals were euthanized. She added that the old shelter didn't have a foster program like the one that thrives today, preparing newborn kittens and puppies and other special-needs animals for adoption.
Ms. Worth has kept coming back for 40 years because, she says, it's been such rewarding work: "If I can help make an animal happy, it's much more likely to be adopted."
AWLA's volunteer cadre lost a key veteran player this spring. Nancy Posey, who died in April at age 86, had served at the shelter for more than 28 years and continued to work at the front desk until just a few months before her death. Ms. Posey had a soft spot for German shepherds and was known for a bright smile and easy laugh that warmed the shelter's lobby. "She always put herself last, looking to make life better for all creatures — two-legged and four-legged," recalled AWLA staffer Phin Cooper, who worked alongside Ms. Posey at the desk for several years. "She played the Mother Goose role very well."


Eighty-seven-year-old Marnie Moore also worked closely with Nancy Posey on the front desk. The work has been a tonic for Ms. Moore, a former flight attendant, since her husband died 14 years ago. When she takes a break from the desk, Ms. Moore makes a beeline for the dog kennels, talking to the dogs and slipping them treats. No longer strong enough to take a dog out for exercise, Ms. Moore goes on duty every Thursday afternoon answering citizen phone calls, filing, and greeting shelter visitors. "I'll go anyplace they need me," Ms. Moore said.
The Animal Welfare League of Alexandria, celebrating its 70th year, is an independent, local, 501(c)(3) non-profit organization. Operating the Vola Lawson Animal Shelter, an open-admission facility and Alexandria's only animal shelter, the league provides care for more than 3,500 animals every year, including strays, lost pets, local wildlife, rescue animals, and animals surrendered by their owners. The AWLA is committed to ending animal homelessness, promoting animal welfare, and serving as an educational resource for the community. More information is at AlexandriaAnimals.org.