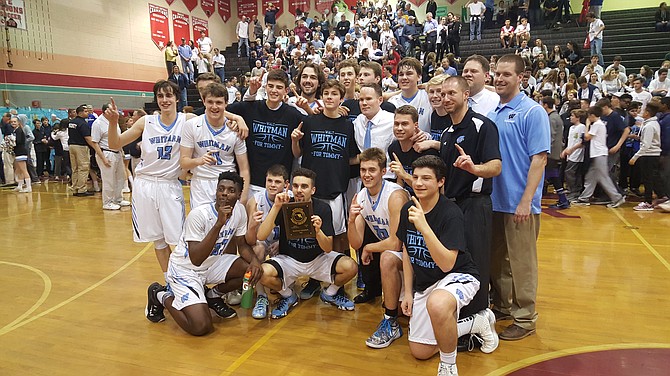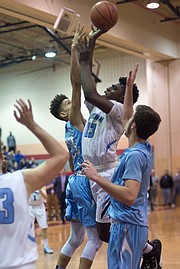 Shaq Diboti-Lobe used strength and determination to put the Whitman boys' basketball team in position to win a region championship. After Clarksburg managed to force overtime, Diboti-Lobe used his perimeter shooting touch to regain the lead.
When the final buzzer sounded, Diboti-Lobe and his Vikings teammates celebrated on the gym floor at Montgomery Blair High School as a result of their resiliency.
Diboti-Lobe scored 29 points and Whitman won its second region championship in three years, defeating Clarksburg 62-61 in overtime during the 4A West tournament final on Saturday, March 5. The Vikings will face defending state champion Meade in the state semifinals at 9 p.m. on Thursday, March 10 at the University of Maryland's Xfinity Center.
Whitman overcame a nine-point fourth quarter deficit and held a three-point lead late in regulation, but Clarksburg's Andrew Kostecka knocked down a 3-pointer in the closing seconds to send the game to overtime. The Coyotes led by two in the extra period when Diboti-Lobe drilled a 3-pointer with 1:42 remaining, giving the Vikings a 62-61 advantage.
Neither team would score for the remainder of the contest. Clarksburg's final possession ended with a missed shot from the corner.
Five days earlier, Whitman overcame a four-point deficit with less than 30 seconds remaining to beat Bethesda-Chevy Chase in the section semifinals.
"They don't give up," Whitman head coach Chris Lun said. "... [W]e're down seven, I think they pushed it to nine, and we called timeout and none of the guys were over there screaming at each other. They just stayed calm. I said we've been in this situation before at B-CC and they respond. It's the makeup of the guys that we have: they do well in school, they hang out off the court, and all that stuff really does make a difference. They just came through for us in a clutch spot tonight."
Whitman trailed 53-49 with less than 2 minutes remaining in regulation when Diboti-Lobe took over for the Vikings. Despite playing with four fouls since early in the third quarter, the senior guard worked his way inside, banging against Clarksburg defenders while in search of high-percentage shots. Diboti-Lobe twice in a span of 40 seconds scored and drew a foul, and each time he converted a three-point play by making his free-throw attempt --- the second of which gave Whitman a 55-53 lead with 55.3 seconds remaining.
"I went into a mindset that I have to attack the rim," Diboti-Lobe said. "I can't take any forced or bad shots. I have to attack the rim, I have to get to the rim, I have to finish and I did that and I got contact and I hit my free throws."
Diboti-Lobe knocked down a pair of foul shots with 14.8 seconds remaining, giving Whitman a 59-56 lead, but Kostecka's 3-pointer moments later forced overtime.
Despite having their comeback attempt thwarted in regulation, the Vikings regrouped and came out with the victory.
Whitman improved to 17-9 and has won 12 of its last 14 games.
"We're just a mentally tough team," Whitman's Max Oppenheim said, "and we've always kind of prided ourselves in the second half of the season about being able to go in and, despite what was thrown at us, we were able to get it done."
Oppenheim, a 6-foot-7 junior who also finished the game with four fouls, scored eight points. Junior guard Jack McClelland also scored eight points for the Vikings, junior forward Jack Berson finished with six and junior guard/forward Hannes Kogelnik added five.
Kostecka led Clarksburg with 22 points.
Whitman reached the state championship game in 2014, losing to Wise 70-43. Lun led the Vikings to the state title in 2006.
"Roosevelt's great, Perry Hall is good, Meade is [the] defending state [champion]," said Lun, listing the other three members of the state final four. "People are probably going to look at us and think we have no chance, but we're going to show up and compete as hard as we can."