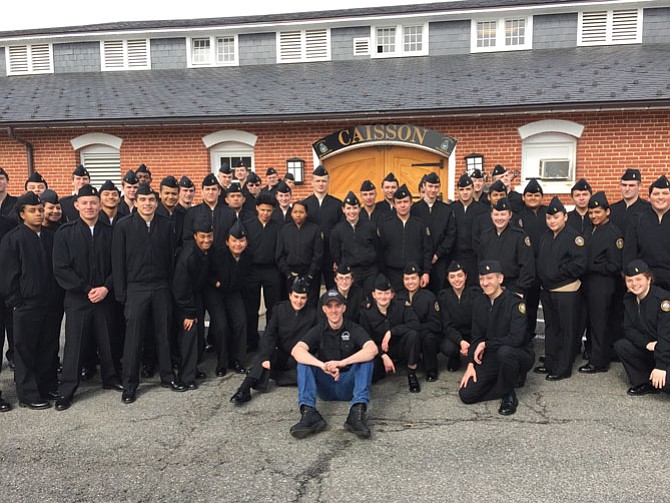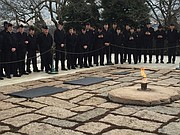 Herndon NJROTC Cadets traveled to Arlington Cemetery to visit the Tomb of the Unknown Soldier and other historic sites. The cadets first paid tribute to the memorials that represent the astronauts who died dedicating their lives to human exploration. Next they walked up the hill to visit the Maine Memorial. The mast from the Battleship Maine is surrounded by a marble chamber which is inscribed with the names of the sailors who died on the fateful day which thrust the nation into the Spanish American War.
The cadets were met by retired LTC Steve St Clair, a former member of "The Old Guard," the soldiers that guard the Tomb of the Unknown Soldier. Walking down the hill to where the tomb lays, the cadets were shown Audie Murphy's memorial, the most decorated soldier in the U.S. history. Arriving at the tomb was a solemn experience. The sentinels that march back and forth in front of the tomb are the most impressive soldiers one will ever witness – their discipline and military bearing are unsurpassed. Every step, every move they make is timed and synchronized to a ceremonial plan. The sentinel on duty takes 21 steps across the mat, turns and faces the tomb for 21 seconds, representing the highest military tribute, the 21-gun salute. Inscribed on the 50-to marble cap are the words "Here Rests in Honored Glory An American Soldier Known but to God." The unknown servicemen are under 24-hour guard that was established in 1937. The Cadets observed the changing of the guard followed by a wreath laying ceremony. Next the cadets walked over to the Kennedy Memorial and stood around the eternal flame, lit by Mrs. John F. Kennedy in 1963. As they departed, they read some of the inscriptions from the fallen president's famous speeches.
Finally, the cadets bussed over to Fort Myer where The Old Guard is headquartered and visited the stables where the horses and caissons that carry our fallen soldiers to their final resting place are maintained and housed. This was the first time the corps of cadets has visited Arlington Cemetery.