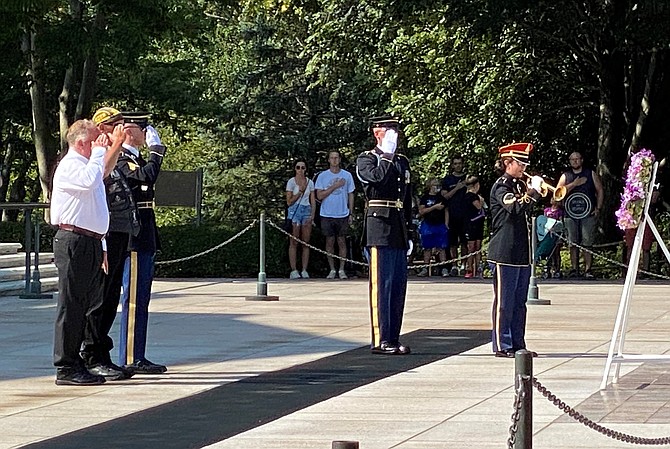 Beth Ann Dively knew something was wrong. A late-night knock on the door. A military chaplain. She had just spoken to her husband, U.S. Air Force Maj. Duane Dively, a few hours earlier during his nightly call to their home near Beale Air Force Base in California.
"No sooner had I opened the door, I closed it," Dively said, recalling that night in June of 2005. "I didn't want to hear what was coming next."
Dively would learn that her husband's plane had gone down during a mission in support of U.S. troops in Afghanistan as part of Operation Enduring Freedom. Duane Dively, a 43-year-old U-2 pilot flying out of Al Dhafra Air Base in the United Arab Emirates, did not survive.
On Aug. 8, Dively was one of several Gold Star family members gathered at Arlington National Cemetery for the closing ceremony of the 12th annual Tribute to Fallen Soldiers Northwest Memorial Torch Motorcycle Ride.
The ride began July 10 in Eugene, Ore., and made its way across the country, stopping at the homes of 75 Gold Star families to pay tribute to the fallen soldiers.
"I did not know this organization at all before this summer," Dively said. "But when they reached out to me to honor Duane, I saw how committed and dedicated they are to the families of the fallen."
The Tribute to Fallen Soldiers Northwest was founded in 2009 by Warren Williamson, who wanted to acknowledge the service and sacrifice of America's fallen.
"We want to remind each Gold Star family their fallen service member isn't forgotten," Williamson said.
As part of the cross-country ride, Williamson and others make Fallen Soldier home visits, which included a visit to Dively in Old Saybrook, Conn., where she now lives.
"This is our personal way to graciously say 'thank you' and remind each family there are still grateful Americans across the country who care and choose this platform to lift them up," Williamson said.
Since its inception, the ride has honored more than 800 fallen service members across the nation.
Dively joined several other Gold Star families at the closing ceremony of the ride, which included a wreath laying ceremony at the Tomb of the Unknowns.
"This is a very emotional journey for me," said Wayne, a Vietnam veteran from Richmond who participated in the cross-country ride for the sixth time and assisted in the wreath laying. "This brings back memories from my time in Vietnam. It means a lot to be here."
For Dively, the ceremony at Arlington National Cemetery was unlike others that she has participated in.
"I have walked away from other places that have presented my husband with honors and did not get the feeling that I had today," Dively said. "I am always thankful when someone recognizes and honors Duane but this particular organization is different. They have a real compassion for what grieving families go through and it is healing to see the commitment to ensure that our loved ones are never forgotten."