The core differences between the Democrats, and even the independent running for County Board, are slim. So when the three candidates met the evening of May 16 for a debate, the conversation centered around differing approaches to the same issues affecting the county. Hosted in the Rosslyn Hyatt by the Chamber of Commerce, much of the evening's questions centered around repairing the county's business culture.
For Libby Garvey, incumbent chair of the Arlington County Board, the keyword was streamlining.
"[The Blue Ribbon Panel] was a failure to rebuild trust in how we do business."
— County Board Candidate Erik Gutshall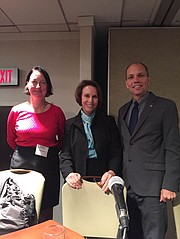 "We don't have a strategic plan and we need one. We need a group to advise us and include the community."
— County Board Chair Libby Garvey
"We need to reform our permitting process," said Garvey. "Boeing tried to build a second building here, but said [the process] was so arduous that they vowed to never build in Arlington again."
Even for smaller scale openings, Garvey said the County Board's permitting process can hinder businesses trying to open in the area. Garvey said she met with former Del. Rob Krupicka who recently opened a Sugar Shack donuts franchise in Arlington following the success of the chain's Alexandria location. However, Krupicka found that the system was riddled with inefficiencies, like business owners not being able to pay fees online. Garvey said she was cringing as he talked about his experience.
But Garvey also noted, in other ways, that the county is working to make itself more business friendly. The County Board recently sent a team to South by Southwest to help advertise the Arlington to tech startups and Garvey took a delegation from Chinese businesses on a tour of some of Arlington's schools.
Even down to the smallest scale of business, Garvey said the County Board can do things to help make Arlington more supportive. Garvey specifically noted that Airbnb, a website that helps people rent out their homes temporarily, is technically illegal in Arlington. Garvey said the County Board needs to look at changing requirements in the code to allow home sharing.
"People need to be able to make money," said Garvey, "and home sharing can be helpful for young families."
For Erik Gutshall, the word is investment.
"I do not believe fiscal responsibility means short changing our future," said Gutshall. "I believe there's a difference between expenditures and investments."
Gutshall said that it is the County Board's responsibility to create the best version of the county possible to attract businesses. For Gutshall, that particularly means investments in infrastructure, particularly pedestrian and bike paths and a second Metro bridge crossing.
As owner of Clarendon Home Services, Gutshall said he has first hand experience with what businesses in Arlington need.
Beyond business, Gutshall said the county needs to work more with the business improvement districts (BIDS) in Rosslyn, Ballston, and Crystal City to try and find uses for Arlington's public spaces.
Though running directly in opposition, Gutshall and Garvey only once seemed to come close to direct conflict. When asked what the biggest mistake from the County Board in the last year was, Gutshall had some strong feelings about Garvey's Blue Ribbon Panel. The seven member panel, established without public notice, assesses county policy goals and prioritizes them. But Gutshall said the panel takes away from the spirit of collaboration and transparency Garvey claimed to be championing.
"It was a failure to provide notice and include public input," said Gutshall. "It was a failure to implement the facilities community study. It was a failure to rebuild trust in how we do business."
But Garvey agreed. When asked about the biggest failure of the year, Garvey acknowledged that the core ideas of the Blue Ribbon Panel had been poorly communicated to the county.
"We don't have a strategic plan," said Garvey, "and we need one. We need a group to advise us and include the community."
Garvey acknowledged that the idea did not have the public engagement that it should have, and promised to adjust in the future.
When asked what their priorities were for capital funding, all answered schools, infrastructure, parks and transportation. While many of the questions from the audience centered around Garvey and Gutshall, who compete for the June 14 Democratic primary, Independent Audrey Clement suggested a different approach to helping businesses..
Clement is a veteran of running for offices in Arlington, having run for both the County Board and School Board multiple times. Clement's keyword of the night was preservation. For businesses, Clement said that the county can't afford to try and keep up with the incentive programs offered by Prince George's County or Washington D.C. Clement said the option that would make Arlington most appealing would be a full cent drop in the tax rate. One of the two Democratic candidates will face off against Clement on the Nov. 8 general election.