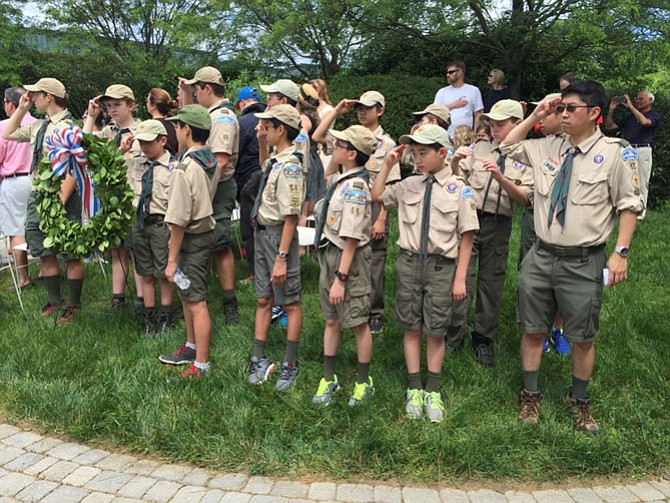 United States Air Force veteran Paul Quinn "didn't intend to show this much emotion" during the Memorial Day Celebration Ceremony at the Great Falls Freedom Memorial.
"You never forget the names and all your friends," said Quinn, who now lives in Arlington and visited his daughter in Great Falls for Memorial Day weekend.
Well more than 100 people attended The Friends of the Great Falls Freedom Memorial's annual Memorial Day Ceremony, a moving hourlong tribute behind the Great Falls Library.
Richard "Hot Dog" Brown was a Navy fighter pilot who served the country in the Navy from 1956 to 1981. He and his wife Nora Lee Brown, of Great Falls, called this year's event especially moving because of guest speaker Mariana Ritchie, who gave the key-note address with her husband Ret. Brigadier General Steve Ritchie, of the United States Air Force.
Mariana Ritchie gave details of growing up in Romania under Communist rule. As a schoolgirl, she hid a photo of an American flag with her, which gave her hope.
"I speak for the oppressed," she said. "I am the oppressed that you rescued."
ANDY WILSON, president of the Friends of Great Falls Freedom Memorial, opened the ceremony.
"That's why we are here today to memorialize and remember and have a ceremony for those who have given their lives," Wilson said.
"Each died for a cause he considered more important than his own life," he said.
J.C. Reigns sang "God Bless America," "American Soldier," and "Proud to be an American."
Calvin Follin read the names of 25 honored men and women of Great Falls, while Sara Hilgartner rang a bell to each and every name; a Marine Corps bugler played "Taps" while almost all in the audience, including Boy Scout Troop 55, saluted.
"The Community of Great Falls, Virginia, honors those who have given of themselves in service for the cause of liberty and freedom," are the words on the Freedom Plaza sculpture, where the laying of the wreath took place.
After the United States Marine Corps Color Guard began the ceremony with Boy Scout Troop 55, former Navy Seal John Pidgeon said, "Having our Marines here is awesome. These guys have been in combat. Make sure you thank them."
KEYNOTE SPEAKER Ret. Brigadier General Steve Ritchie graduated first in his class in Air Force pilot training and four years later become one of the youngest instructors ever at the Air Force "Top Gun" Fighter Weapon School. "During his second combat tour in Southeast Asia in 1972, Ritchie, then a captain, downed five MiG-2 enemy fighter airplanes. During his career, Ritchie logged more than 4,000 hours, including 800 hours in combat in the F-4 Phantom during 339 missions in Southeast Asia.
"The impossible is sometimes possible," said Ritchie. "That's a great lesson for all of us."
"Take advantage of every day," he said. "We never know what's just around the corner, do we?"
"Treat people with dignity and respect," he said. "If we could treat other people the way we would like to be treated wouldn't the world be a different place?"
"Our word is our bond," Ritchie said. "If you have integrity, nothing else matters. If you don't have integrity, nothing else matters."
"If you have integrity, nothing else matters. If you don't have integrity, nothing else matters."

— Ret. Brigadier General Steve Ritchie
THE FRIENDS of Great Falls Freedom Memorial formed in 2002 with "the mission to build a memorial site in Great Falls dedicated to the residents who have given their lives for our freedom."
"Great Falls residents have served in many of our country's wars and conflicts throughout this nation's history. The Freedom Memorial Committee has compiled a book to honor our Great Falls citizens who have made the ultimate sacrifice and given their lives for our country," according to tribute placards at the Freedom Memorial in Great Falls.
The book is on display in the library.
Great Falls Freedom Memorial was inspired by a candlelight vigil on Sept. 11, 2002.
The Friends of GFFM support the mission with yearly ceremonial events and educational programs. The group will hold a 9/11 Memorial service candlelight vigil on Sunday, Sept. 11 and a Veterans' Day Memorial Ceremony on Friday, Nov. 11.