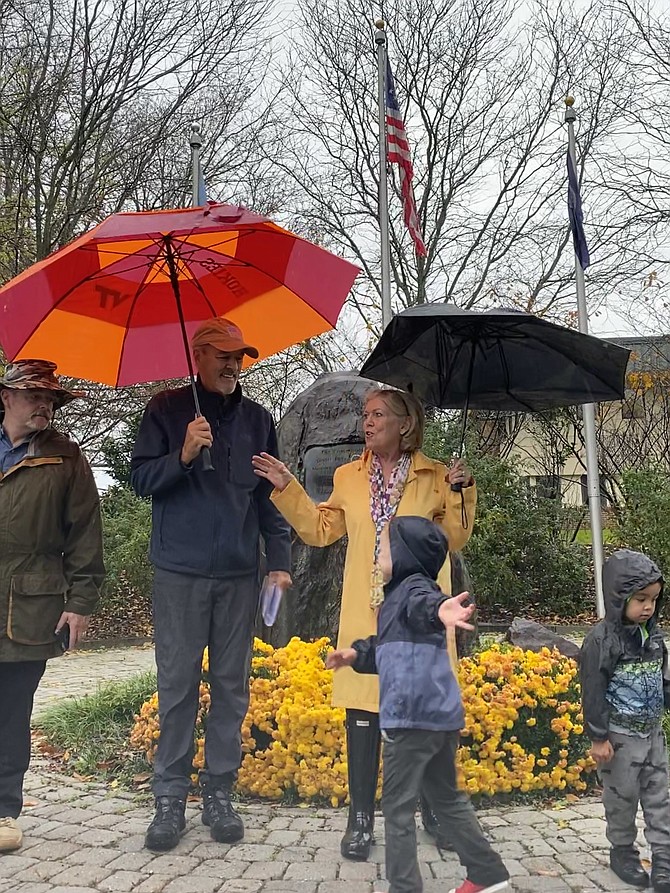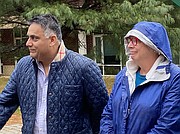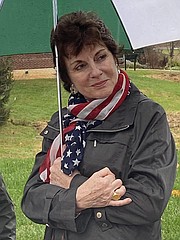 A dozen or so hardy souls quietly gathered in the drenching rain at the Great Falls Freedom Memorial at the 11th hour of the 11th day of the 11th month to pay tribute to America's veterans in an unofficial ceremony. Even though the Great Falls Freedom Memorial website announced, "Due to the Covid-19 pandemic, the 2020 Veterans Day Ceremony will not be held," the printed words did not stop them. According to Andy Wilson, president of the Friends of the Great Falls Freedom Memorial and a retired Army Ranger officer, he and his wife Nancy told a few friends they would meet informally regardless of the rain. "From there, it was word of mouth," he said.
So, it happened that one hundred and two years after hostilities on the Western Front of World War I ceased on Nov. 11, 1918, a small group, mostly adults from Great Falls and McLean, according to Wilson, returned to the memorial plaza despite the pandemic. The memorial's monument of local glacial rock and its granite curb, inscribed with words such as courage, patience and love, principles held by those who give of themselves for liberty and freedom, had been installed three years after 9-11.
It was a place of comfort and pride even though the citizens stood alone under umbrellas for a home-spun ceremony to commemorate Veterans Day 2020 and teach the young. There was no crowd of a hundred; no Langley High School Madrigals singing patriotic songs; no U.S. Marine Corps Color Guard Detachment presenting the color.
"We are meeting to honor veterans past and present for their service," said vice president of the Friends of the Great Falls Freedom Memorial, retired Lt. Commander Dr. John "Sandy" Pidgeon, who served as a Navy SEAL. "If everybody pushes their umbrellas together, we can have a canopy," he suggested.
ANDY WILSON, president of the Friends of the Great Falls Freedom Memorial and retired Army Ranger, delivered the invocation. Wilson said he found it on the internet and thought it very interesting. "On the heels of a heated Presidential race, this is a day to unite, to remember and pray, to show our gratitude for so many who have fought for our country...Thank you for reminding us that there's incredible love and sacrifice displayed, when one is willing to stand strong, and fight for freedom."
Wilson said they typically hold three official events each year at the memorial, Memorial Day Observance, a 9-11 Remembrance and Veterans Day Ceremony. Covid-19 forced all canceled in 2020. Asking veterans to raise their hands to be recognized, Wilson thanked them for their service and said, "I'm very happy a lot of you are out here. Bless you."
Pidgeon asked if anyone had family members who served, in what branches, and when. Wilson added, "That's why this Memorial is here. To keep that memory alive...for this community." Janet Tysse of McLean said, "My brother served in Vietnam, Army, helicopter pilot." "My father served in World War II, Army," said Rosie Oakley of McLean. "My father was in World War II, Army Air Corps," said Bill Denk of Great Falls.
With no invited key-note speaker, Wilson took on the role. He shared the story of an American hero of World War I, Sgt. Alvin York, who almost single-handedly captured 132 German troops. He returned home a hero, and when World War II broke out, he helped convince America it must fight again. Quoting York, Wilson said, "Liberty and freedom and democracy are so very precious that you do not fight to win them once and then stop. Liberty and freedom and democracy are prizes awarded only to those people who fight to win them and then keep fighting eternally to hold them."
ENDING THE CEREMONY, Pidgeon prayed, "(God) you know every veteran by name, you know their deeds, you know their hard work, you know their privations in the field, and you know their perseverance in the face of fear...Please draw each one closer to you today as we listen and rejoice in their lives." To view the story of the memorial, visit https://youtu.be/8SmYgjrs45Y.