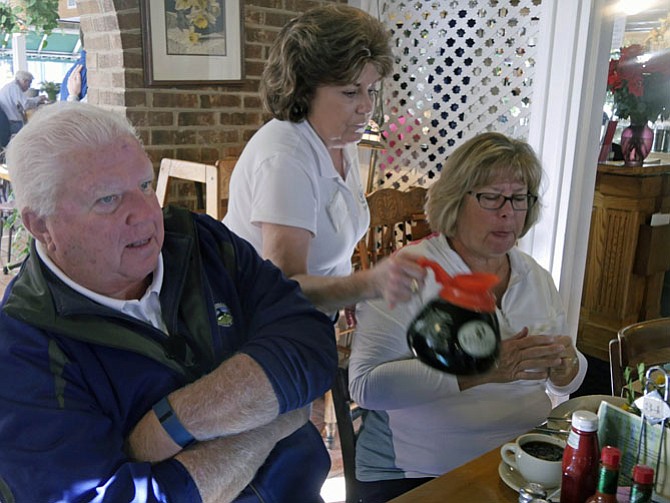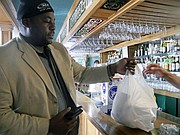 The telephone is ringing; customers line up at the counter for large white carry-out plastic bags of scrambled eggs and pancakes; the cash register clinks. Nick Kapetanakis says, "This is the command center."
Kapetanakis is a manager at Table Talk Restaurant on Duke Street. He says his parents owned the restaurant in 1976, and he worked there cleaning and painting. "Then I went off to school." Now Kapetanakis has come back in a different role as a manager where he has been for 17 years.
Gloria Connor, a waitress at Table Talk, refills a cup with decaf coffee. Two couples are meeting for breakfast, one from Arizona. "We lived down the block at Carlyle Towers and used to come here. Our son lives in Alexandria and when we came back to visit we wanted to come back here." Today she got eggs Benedict. "I wanted to splurge."
Connor has been working at Table Talk for three and a half years where she came after working 24 years at a different restaurant. She says many of her customers followed her to Table Talk. She switches to a carafe of regular coffee and heads for the corner. A customer volunteers, "Wednesday is reunion day. Eight of us who knew each other meet every week for breakfast."
A couple of the regular 30-year customers sit at the next table, each eating an egg sandwich tailored to their own taste. Brenda Gough, also a waitress at Table Talk says, "Some days people are picky and take out something from their order and put in whatever they want." Connor says that nothing is weird these days. "People add peanut butter to pancakes, to everything." Gough has been working at Table Talk for nearly a year, also having brought along customers from her previous job. Her favorite menu items are the ham and cheese omelet "and the turkey sub is really good at lunch." Connor observes that people are habit forming and a lot of people order the same thing every time.
Gough pushes the swinging door open with her hip, arms balancing a platter of pancakes with a plate of eggs and grits. Gough says she works Monday, Tuesday, Thursday, Friday and Saturday. She says Tuesdays aren't too busy but things start to pile up on Thursday and there is a line out on the sidewalk on the weekends." The phone rings again. "Can I help you?" She says, "We get a lot of orders on the phone."
Laurence McGee, a regular customer, is waiting to pay. "I stop here 1-2 times a week to pick up breakfast and take it down the street to work. Today it's eggs, grits, and sausage. I usually get bacon. The food here is really good."
Connor pulls out her book of tickets and adds up the bill while keeping an eye on the room in case a customer needs something. Gough says, "It's different here because I was used to a computer. I had to get used to tickets." Gough interjects that the biscuits and gravy is the best. "And," Connor adds, "we refill coffee or sodas. We make sure they get as much as they want. Some people drink a lot of coffee."
"Finished?" Gough head off to bus a table. She piles her arms with a stack of plates, silver and glasses and heads for the kitchen. "Usually we have someone who does this for us but they aren't here today. We all help each other out."