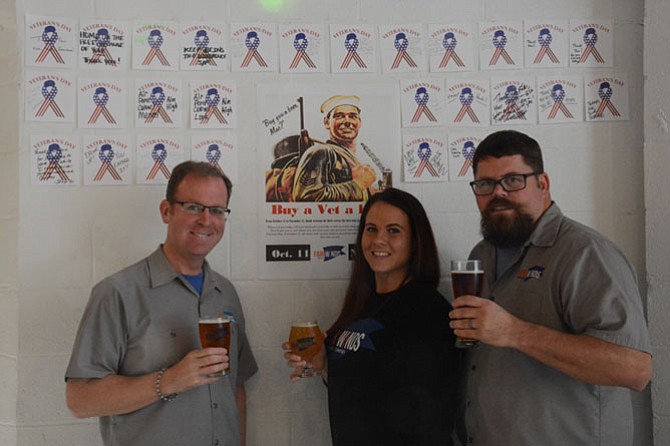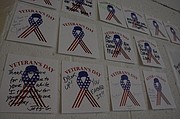 Some simply say "Thank you for your service." Others are more personal, listing a name, service branch and years served, or names of loved ones who were killed in the line of duty. Regardless of the content, each note for active duty or retired veterans on the wall at Fair Winds Brewing Company in Lorton comes with the same thing: a free beer and a hearty thanks.
For the second year, Fair Winds is promoting a "Buy a Vet a Beer" campaign for the month leading up to Veterans Day on Friday, Nov. 11.
Either at the brewery or online, anyone of legal drinking age can purchase a beer ahead of time for a veteran to claim during Fair Winds' expanded hours that Friday. Then they write a corresponding note that creates a more intimate connection with the recipient.
Fair Winds CEO and former member of the U.S. Coast Guard Casey Jones explained last year they were trying to come up with a special way to honor and engage veterans.
"It's not legal to just give away beer in Virginia," he said. So the Fair Winds team came up with the idea of "Buy a Vet a Beer," as if the honorees and their patrons were just sitting next to each other at the bar.
Last year on a whim they bought a pad of paper for notes to go along with the promotion. Jones said they quickly went through multiple pads.
Overall, they sold 250 beers for vets, with all the proceeds going to a veterans charity.
"We were so taken aback by the generosity of the community," Jones said.
This year, Jones expects to tally between 350 and 400 beers for vets. Money raised will go to the National Disabled Veterans Winter Sports Clinic, scheduled for the end of March 2017 in Colorado.
"For some, it speaks to them," Jones said of the veterans response to last year's event. "For others, it's just beer."
Either way, the goal is to get the military and non-military communities together and reflecting on the day of honor and remembrance.
"You definitely get a good set of sea stories going," said Jones.
Veterans Day is Friday, Nov. 11. Fair Winds Brewing Company located at 7000 Newington Road, Suites K&L in Lorton, will be open from noon until 10 p.m. that day. For more information, visit www.fairwindsbrewing.com.