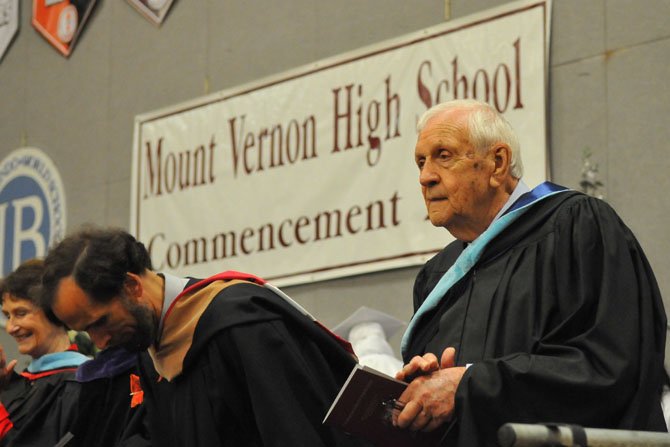 Michael M. Skinner of Mount Vernon died Oct. 17 at the age of 91.
Skinner was as well-known fixture at Mount Vernon High School between 1955 and 1983, where he taught history, coached basketball and was served as subschool principal.
Supervisor Dan Storck (D-Mount Vernon) announced Skinner's death during remarks early in the Tuesday Oct. 18 Board of Supervisors meeting.
Storck expressed his "great sadness" after hearing the news. He described Skinner as someone who was always communicating, trying to improve Mount Vernon schools and individuals' lives in general.
"I think everyone in the community received a call from him at some point," Storck said.
In a statement on his Facebook page, state Sen. Scott Surovell (D-36) called Skinner "a great guy and community institution."
"As of this year, he had attended nearly 60 graduations," Surovell wrote. "No one cared more about MVHS than Mike. We always sat next to each other at graduation and I'll miss seeing him this June."
A memorial for Skinner is scheduled for Saturday, Oct. 29 at 10:30 a.m. at Mount Vernon High School in the Michael M. Skinner Field House, located at 8515 Old Mount Vernon Road in Alexandria. A reception will follow immediately at the Mount Vernon Country Club, located at 5111 Old Mill Road in Alexandria.
Skinner is survived wife of 47 years Lucy Peacock Skinner and three children: Michelle Skinner, Annapolis, MD; Michael W. Skinner, Clearwater, FL; Beverly Hughes, Shepherdstown, WV; and four grandchildren: Margaret Taylor, Melissa Mitchell, Michael C. Skinner and Kara Hughes.
In lieu of flowers, contributions may be made to the Washington Farm United Methodist Church, 3921 Old Mill Rd., Alexandria, VA, 22309; Shepherd University; or the Mt. Vernon High School Athletics Department.