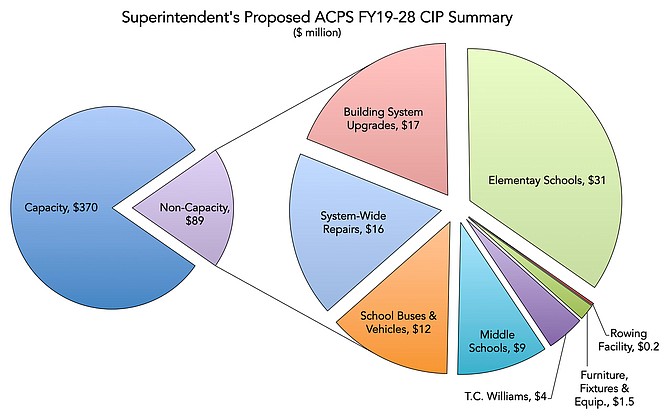 Non-capacity expenses in the school administration's proposed FY19-28 Capital Improvement Program (CIP) reflect the cost of keeping aging school facilities up and running.
Superintendent Lois Berlin's $459 million CIP proposal to the School Board comprises two main project categories: "capacity" and "non-capacity." Capacity projects mainly include new school construction, or property acquisition, to accommodate growing student enrollment. These account for $370 million (80 percent) of the CIP proposal.
Non-capacity projects do not add new seats. Rather, they largely "address deferred modernizations" of existing schools that are up to 95 years old and "have outdated systems that are increasingly harder to repair," said Berlin. Non-capacity projects account for $89 million (19 percent) of the CIP proposal and were the subject of the School Board's second CIP work session, Thursday, Dec. 7.
This year's non-capacity portion represents a 10 percent increase over the School Board's approved $81 million 10-year request in FY18, and a 53 percent increase over its $58 million request in FY17. The largest 10-year increases over the FY18 request include school buses and vehicles, building system upgrades, Lyles Crouch Elementary School, Matthew Maury Elementary School and system-wide repairs. The combined increase for these projects is $16 million, or 44 percent. Such escalations outpaced six-figure decreases from last year for T.C. Williams High School, Francis Hammond Middle School and Mount Vernon Elementary School.
Under system-wide repairs, this year's proposed $7.5 million line item for emergency repairs, spread evenly over 10 years, represents a 50 percent increase over last year's $5 million request. These funds are set aside to address "catastrophic failure[s]," such as a burned out air-conditioning compressor at Jefferson-Houston School last summer, said Berlin. The school system also plans for more routine operating and maintenance costs in its annual Combined Funds Budget. Warranties, insurance and system manufacturer maintenance contracts can cover certain other maintenance expenses and repairs.
Berlin's proposal incorporates recent recommendations from the Ad Hoc Joint City-Schools Facility Investment Task Force. But the task force's purview didn't include non-capacity projects, which is why Berlin's total proposed CIP dollar amount exceeds the task force's by $20 million. Berlin's proposal specifically for capacity projects comes in $1 million below the task force's recommendation. While the task force didn't look at specific non-capacity projects, it will recommend general operations and maintenance process improvements in its final report, due in January.
Interim COO Richard Jackson said he's considering assigning school system project managers to particular schools so that they can keep better track of upkeep items like painting.
Responding to a question from School Board member Karen Graf about establishing rhythms for such upkeep, Berlin said, "We used to be on a 7-year cycle. A school knew that it was going to get completely painted, new floors, new furniture every 7 years. And we need to get back to that. I don't think that this [budget] reflects that exactly; but that is what we need to get back to." Berlin has proposed a system-wide exterior and interior painting schedule, and shortly will also propose a flooring schedule.
School Board member Hal Cardwell asked why the CIP proposal doesn't include repairs and maintenance in the next 10 years for the recently acquired West End school building. Jackson responded that an engineering assessment indicated no major mechanical problems in the next 5 years. He added that the roof and garage, though no problems are currently evident, warrant additional scrutiny.
School system budget documents are available at www.acps.k12.va.us/budgets. Subsequent CIP work sessions will occur Dec. 19 and Jan. 3, culminating in final adoption Jan. 11. All meetings are open to the public, as well as recorded for online viewing.