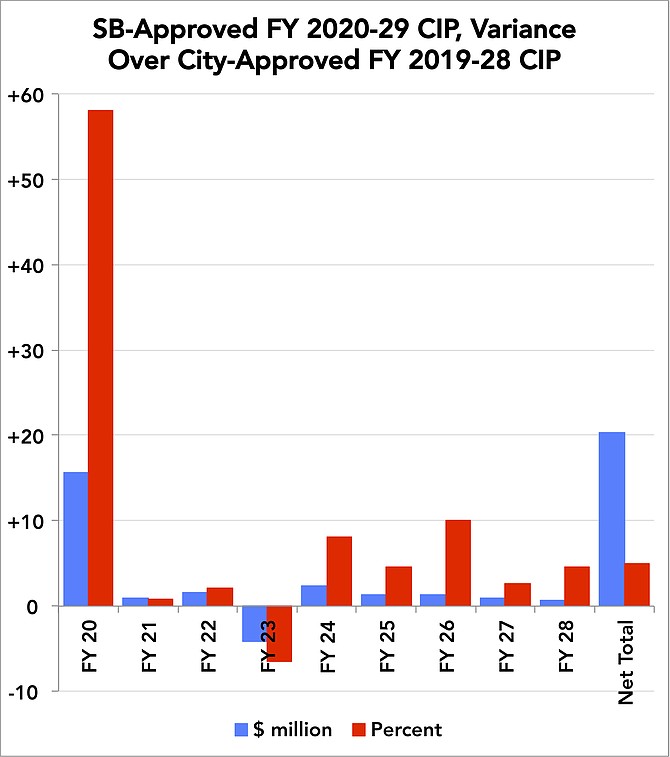 "I've met a lot of people who would pay more taxes if it were for education." —School Board member Margaret Lorber
"The budget tells a story," said School Board chair Ramee Gentry, reiterating her characteristic budget season motto. The schools' 10-year capital budget was adopted on Thursday, Dec. 20.
The division's FY 2020-2029 capital improvement program, or CIP, adds up to $479 million, including $43 million in FY 2020. These figures serve as a request to the City Council, which council will weigh against all the city's other infrastructure needs during the public budget process this spring.
To add seats for growing enrollment, the total requested amount would buy high school capacity expansion; renovations or replacements of three elementary schools; and two new schools, one of which could serve as temporary "swing space" to house students while other projects are underway, before converting to its permanent new use. It'd also buy $96 million worth of major repairs to existing facilities, such as HVAC repair or replacement.
The schools' total request this year includes an additional $20 million (5 percent) for the 9-year period overlapping last year's 10-year CIP. Of that amount, $16 million occurs in FY 2020 alone, representing a 58 percent increase over what council previously approved for that fiscal year. The FY 2020 increase owes to an additional $8 million (65 percent) over what the School Board requested last year for non-capacity items; plus advancing $7 million, previously budgeted for FY 2023, to overhaul the schools' transportation facility.
The relatively large swing in FY 2020 contrasts with how a CIP ought ideally to work, as described last year by an advisory task force that weighed in on both the city and schools' capital budgets. According to the task force's final report, while a CIP "is neither a firm commitment to a particular project nor a limitation to a particular cost," it "is a key element in planning and managing future debt service requirements." Projects in years 1-3 should be the "most concrete," given a "reasonable forecast of economic conditions (absent an unexpected and highly impactful event);" years 4-6 are "less certain;" and years 7-10 are "highly speculative."
Asked to comment on the stability and and predictive capacity of the CIP, the schools administration said in a statement: "All the major projects in 2020 were in previous CIPs. The timing of them may have been adjusted according to the urgency."
Moreover, Dr. Gregory Hutchings, the schools' superintendent, cautioned that the present CIP derives from building condition assessments that are already several years old. He expects that a new round of assessments, currently underway and due this spring, will warrant additional future cost increases.
"I think that our future CIPs are going to be a little more aggressive, and they're going to have to be, based on the data we receive. I just don't want to make an assumption [in this year's CIP] as to what the data's going to tell me, because I could be wrong," he said. "It did take us some time to get into the situation [of deferred maintenance] that we're in, and it's going to take us some time to get out of [it]."
The schools' CIP also describes in words additional items the School Board thinks it needs, but decided to exclude as budgetary line items.
"Even with the projects included in the FY 2020-2029 CIP, a significant capacity and building condition need will remain unaddressed," according to the budget adoption motion. In particular, "there is no solution for middle school capacity needs included in this CIP." While the School Board intends "to pursue interim measures," it calls on council "to identify the resources to address the need beyond the CIP."
Similarly, the School Board tweaked its budget document to say: "The School Board supports a budget strategy that will allow [the division] to address urgent repair and renovation needs that may arise and are not reflected in the current CIP budget and will therefore need to be addressed outside of the budget calendar cycle. The School Board requests that City Council … create a mechanism for such requests, such as a reserve fund designated for urgent repair and renovation projects."
Though ultimately voting 8-1 in favor, several School Board members chafed, in varying degrees, at such statements' vagueness.
Outgoing School Board member Chris Lewis said: "If we're going to ask for what we need, we need to put it in there in dollars. … The best way we inject the full needs of the school division into that community conversation [about competing demands on public resources], before we apply the fiscal constraints, is in this first round of budgeting, before we go into a work session with City Council, and then adjust on the back end. To me that's a better philosophy and approach to doing a budget."
"It manifested itself last year as a problem. City Council and the city manager were very clear when they passed the budget that they 'fully funded ACPS,' and we know that wasn't true because we didn't ask for everything we needed," he said at an earlier work session.
Outgoing School Board member Bill Campbell agreed, saying that the city "out-politicked" the schools. Campbell's was this year's sole dissenting vote.
"We've been overcome by a number of issues that have to be taken care of, and it's probably almost more than we can afford. But somehow we have to let the city know that this must be done," said School Board member Margaret Lorber, who begins a new term this month. She hopes the public will galvanize in order "to raise taxes for education. I've met a lot of people who would pay more taxes if it were for education. The school system needs more funding, and that's what this is all boiling down to."
Find more at www.acps.k12.va.us/budget.