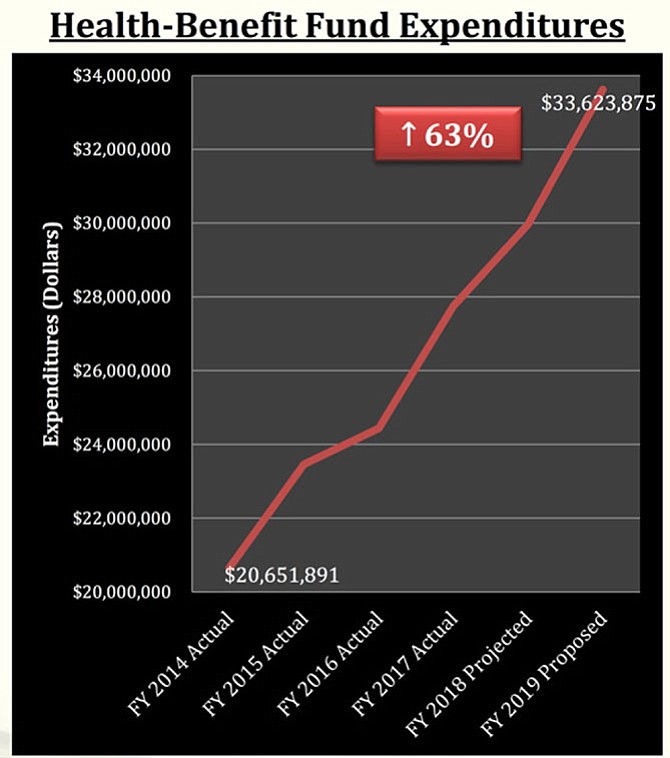 The public school system's FY19 Combined Funds budget, which the School Board adopted on Feb. 22, reflects the pressures of growing student enrollment and personnel costs.
The Combined Funds budget totals $299 million, up 5 percent from FY18, according to data from the School Board's adoption memo. It consists of three principal parts: the operating budget, which accounts for 92 percent; and the grants and special projects budget and school nutrition budget, which together account for the rest.
The operating budget totals $276 million (less a $1.6 million operating transfer to the preschool fund when added into the Combined Funds total). That's up slightly from the Superintendent Lois Berlin's Jan. 11 proposal of $275 million, and also up 6 percent from FY18. Operating budget dollars would come mainly from the city government (81 percent) and the state (16 percent); the remainder is mostly from the schools' operating fund balance. The operating budget fuels most regular activities, including teachers' salaries, administration, facilities operations and maintenance, pupil transportation, etc. About three-quarters of operating expenditures go directly toward student instruction.
The grants and special projects budget totals $14 million, up 2 percent from FY18. These resources, mostly from state and federal sources, supplement operations relating to certain areas, including services for low-income families and English-learners, as well as professional development for staff. The majority goes to employee salaries and benefits.
The school nutrition budget totals $11 million, up 5 percent from FY18. These resources, mainly federal, fund most of the schools' food services.
On Feb. 20, City Manager Mark Jinks proposed allocating $224 million to the schools' operating fund, up 5 percent over FY18's $214 million. This increase accounts for 69 percent of tax revenue growth. The School Board's final budget, adopted after Jinks' proposal, bumped the city allocation request up to $225 million. The extra $1 million seeks primarily to preserve certain elementary school staff positions and funding related to specialized instruction.
Main drivers of the schools' operating budget growth include an increase in employee healthcare costs; staff additions due to enrollment growth; and new K-5 textbooks.
Employee benefits total $68 million, up 7 percent from FY18, due largely to healthcare costs. The schools' health benefit expenditures have increased 63 percent since FY14. Gentry told City Council at a joint work session of the "sometimes scary graphs that [Michael] Herbstman [the schools' CFO] and his staff prepare, this is probably the scariest one. Although, if you are following the trends of healthcare costs, this will probably not be a surprising one to you."
Councilman Tim Lovain asked why the city's FY19 health benefit costs didn't rise comparably. One reason is that, from FY15 to FY17, the school system deliberately drew down its health benefits fund. But "we went too far in that direction and have to increase to get it back to a healthy level," said Herbstman.
"It's also fair to say that the schools' plan is richer than the city's plan," said Jinks. For instance, as a result of the city raising deductibles, city employees now make more doctor appointments and walk-in clinic visits and "tremendously" fewer emergency room visits, saving the city money. By contrast, the schools have "chosen" to keep lower deductibles, he said.
Employee salaries total $172 million, up 4 percent from FY18. This is due in part to the addition of 62 full-time equivalent (FTE) positions in light of growing student enrollment. Total enrollment, up 49 percent since FY08, continues to climb. In particular, enrollments of English-learners and students eligible for free and reduced price meals (FRPM) have increased 190 percent and 72 percent, respectively. Of Alexandria's total current student population, 31 percent are English-learners and 59 percent are eligible for FRPM — roughly twice the proportions in both Arlington and Fairfax counties, according to the FY18 WABE Guide.
"We are keenly focused on making sure that the needs of those students are met … [though] there are costs that are associated with those students," said Gentry. For example, in FY19 English-learners will cost about $4,000 more per pupil than general education students, according to the schools' budget document.
The opening of the new Ferdinand T. Day Elementary School on the city's West End will require $4.5 million in net new operating costs, mainly due to staff salaries and benefits.
However, while student enrollment has increased, Alexandria's overall cost per pupil has decrease by 9 percent since FY08.
Materials and supplies in the schools' FY19 budget total $9 million, up 24 percent from FY18. This is mainly due to $1.2 million for new elementary school math, reading and social studies textbooks.
Find the schools and city's budget documents and resources online at www.acps.k12.va.us/budgets and www.alexandriava.gov/budget.