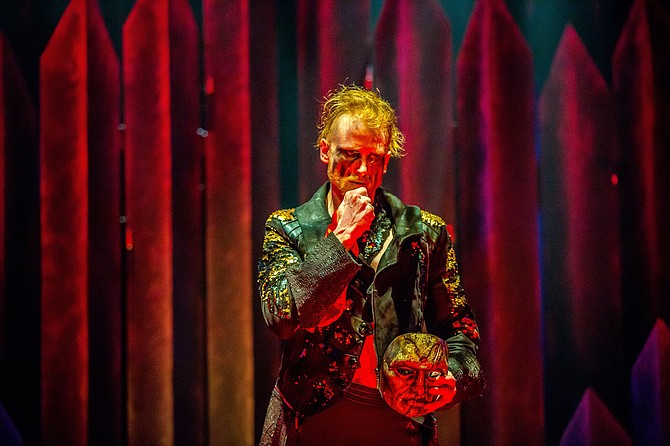 Synetic Theater in Crystal City is staging "The Mark of Cain" from July 19 to Aug. 13. Instead of producing the wordless remount of "Carmen," as originally planned, Synetic's Founding Artistic Director Paata Tsikurishvili was inspired to produce a newly devised, original work. The play is a neo-surrealist distillation of human history, as seen through the eyes of Cain, the world's first criminal.
Director and Producer Tsikurishvili said he wanted to create an all-new and fully devised visual play. "It's exciting to take things to the next level and go beyond classic literature such as Shakespeare, Dumas, Goethe, Cervantes, etc. It's a totally new creative process for us, and I believe it will also be a totally new experience for Synetic audiences," he said. "We've tackled so many universal themes, but now I feel is the time to tie it all together and say something about civilization and humanity as a whole."
This production is about exploring a new "underground art form," he said, and establishing a new way of storytelling through visual art — to tell the story of humanity's need for power and control, and how it is seemingly never enough.
"Even when absolute power is achieved, it does nothing but corrupt absolutely. This is the message we're trying to get across, in a surreal, visually-rich, emotionally-driven, and Dali-esque way, while keeping things highly accessible and thought-provoking," he said. "I believe after 15 years watching Synetic productions, our audiences have learned our contemporary theatrical language and are ready for something new, different, and challenging."
He said the play is one of their original, fully devised works, so starting from scratch is always a challenge. "Unlike producing a story with a traditional script, which in most cases is already written, here, we are creating something totally new and have been adapting as we go along," he said. "Another challenge was keeping a clear story-flow while maintaining the production's simplicity and subtext. We want the audiences themselves to be co-authors and creators, as they find their own meaning to the show and become part of the world we're trying to create."
The play will be an absolutely new experience for his audiences, he said. "I'd like them to experience the joy and satisfaction of a new visual play, something that utilizes our unique style, but in a fresh and exciting way, which can only be seen at Synetic," he said.
Philip Fletcher is playing the role of God, who "walks a fine line between compassionate, caring, creator and passive observer," he said. "At times God sets boundaries or extraneous variables and corresponding consequences for actions he surely knew would be taken," he said. "God is at times detached and ill-affected by the actions of his creation, monitoring and recording without reacting, and at other times is deeply emotionally attached to the characters as events unfold. A mix of father figure and scientist."
His hope is that the audience walks away thinking about what occurred on the stage. "There are a lot of metaphors and some allusions that are relatable to today and also deeply rooted in history," he said. "Our main goal was to avoid telling the audience what to think or feel, but to let them take away from the show the experience that is unique to them and their lives."
Ryan Sellers is playing the role of Cain, who has an arc that has adjusted and changed as they have built the show. "We start from a place of grief and loss and as the show progresses, the character's pain evolves, and we watch what happens to a tortured existence with nothing to lose," he said. "When he feels a combination of sadness, anger, betrayal, and extreme guilt, the combination of intense emotions and his inability to escape them lead him into darkness."
He continues: "We explore Cain, cast out and with no escape [death] to save him from his anguish, and his journey and evolution through time. It's an interesting application of revenge and disgrace, and its effect on power."
He said the director is very visceral and if something doesn't read true for him within a scene or story, he will change it to find the truth he is looking for, whether that be shifting from surrealism to realism or from naturalism to absurdism. "He also places a great amount of trust in his actors, however, and will give you time and artistic license to adjust your personal subtext to match his changes in the story," he said.
He continued: "Being a largely devised piece, our story is almost entirely newly constructed and we are adding and taking away scenes every day. It's my job as an actor to make Cain a person whose actions and choices make sense with these adjustments."
He hopes the audience sees something they haven't seen before, even for long-time Synetic audiences. "It's our job as an artist to make the minds of our viewers work, and be active participators and not passive listeners. Even if a singular image or scene births a new and genuine idea or question in someone's mind, we've done our job of exercising the perception of our audience and making them think in a new way. This is not your everyday, escapism, zone-out kind of show," he said.
Dallas Tolentino plays the role of Abel, known Biblically as the brother of Cain. "He is the victim of the first murder at the hand of his brother. Abel is the catalyst that sets Cain's journey of morality in motion. The production explores the duality of good and evil, creation and destruction, and Abel is the foil and other side of the spectrum from Cain," he said.
The challenge was creating a new, original work in a shorter rehearsal period than they typically have, he said. "We had to be very judicious with editing this play and with such a physical piece of theater it requires great flexibility and patience from the ensemble," he said. "One day we'll have a whole rehearsal dedicated to meticulously learning and cleaning a scene, then the next day that scene may be on the cutting room floor, but we have to move on and continue momentum without dropping a beat."
He said the design of this show was inspired by surrealist art and similar to Dali, Picasso, or Magritte, which one may not intellectually understand at first, but viscerally feel the message. "The longer you look, the more details become evident and your brain begins to link them together as an interpretation, which may be different from another viewer and that's OK. We explore the duality of creation and destruction, good and evil, action and inaction, but I hope the audience finds a semblance of self-reflection in the piece. Empathy is the greatest gift we could give the audience," he said.
Synetic Theater is staging "The Mark of Cain" from July 19 to Aug. 13. Showtimes are Wednesdays through Saturdays at 8 p.m.; Sunday matinees at 2 p.m. Tickets are $20 to $60. The venue is located at 1800 South Bell Street, Arlington. Visit www.synetictheater.org or call the Box Office at 866-811-4111.