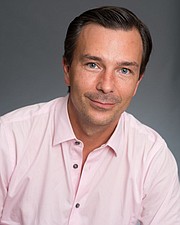 Return to the glorious days of 1980s' rock. It was a time of big rock bands, big electric guitar solos and plenty of big hair matched with big egos. It is all coming back courtesy of the Reston Community Players with "Rock of Ages," a musical nominated for Tony Awards including Best Musical.
What can audiences expect? "Rock of Ages" director Joshua Redford said, "As the song goes, 'Nothin' but a good time.' The music is the best of '80s rock. It is one big concert with scenes thrown in for good measure."
With 15 cast members and a five-piece band led by music director Matt Jeffrey right on stage, CenterStage will have a rock concert atmosphere. "The band is as much a part of the show as any musical I've seen." said Redford. Favorite songs from Styx, Whitesnake, REO Speedwagon, Pat Benatar, Twisted Sister and others will be heard.

"Choreographer Chris Dore, has put together very energetic and fun routines. The choreography is unlike anything you've seen at RCP before. Each member of the ensemble is an exceptional dancer," said Redford.
As for the show's plot to go along with the live music; an aspiring rock star, Drew, and aspiring actress, Sherrie, are trying to prevent developers from turning the Sunset Strip into a strip mall.

Claire O'Brien Jeffrey plays Sherrie. She described Sherrie as "a small town girl, living in a lonely world." She has come to L.A. from Kansas to pursue her dream of being an actress, despite her parents' objections. She's sweet and ambitious and probably a little too trusting of other people. She is determined to make her dreams come true.
For Melrose Pyne who plays a groupie-like waitress, "There is just something special about a jukebox musical. The audience is already familiar with the music so it's like you can feel them breathing and experiencing the material with you in a way that's different than most musicals.
"You don't need to be an '80s baby to love this show. The music is amazing, the dancing will blow your mind, and you'll be up dancing and singing with us by the end of this show. The wigs alone are enough reason to come," said Pyne.
Where & When
Reston Community Players present "Rock of Ages" at CenterStage, Reston Community Center, 2310 Colts Neck Road, Hunters Woods Village Center, Reston. Performances: March 10, 11, 17, 18, 24, 25, 31 and April 1, 2017 at 8 p.m., March 19 and March 26 at 2 p.m. Tickets: $21-$25. Call 703-476-4500 or visit www.restonplayers.com