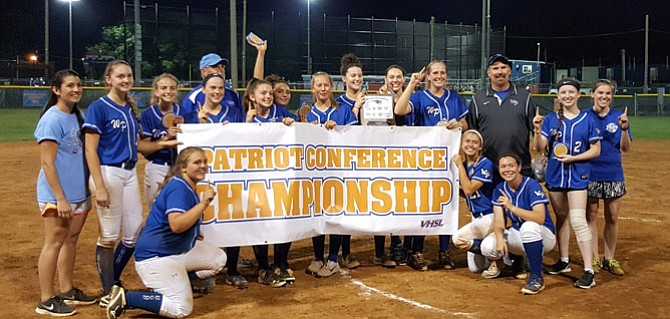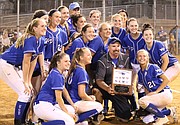 West Potomac Softball beat Osbourn High School in the first round of regional play 10-1 at West Potomac on Tuesday, May 23. The region quarterfinal game will be played at West Potomac on Thursday, May 25 against McLean High School. Start time is 6:30 p.m.
On Friday, May 19, West Potomac defeated West Springfield 5-0 to capture the Patriot Conference title for the first time since 2005. The last time West Potomac played for the title was 2011 and lost to South County in 11 innings.
The road to the championship was hard fought. West Potomac finished the regular season tied for third with West Springfield with a 14-6 record. West Potomac defeated Mount Vernon in round 1 of the conference tournament by a score of 8-1. Then West Potomac defeated Lake Braddock in 10 innings in the semifinal game 5-4. West Potomac captured the title by defeating West Springfield at West Springfield 5-0.
The All Patriot Tournament Team was announced at the conclusion of the May 19 game and the West Potomac players were: Senior Grace Moery (center-field), Senior Micaela Neulight (right-field), Sophomore Jennavieve Miller (third-base), and the tournament MVP was Freshman Claire Davidson (pitcher). Davidson allowed 1 hit and struck out 14 batters in the Championship game.
The semi-finals are on May 30 followed by Region final on June 2.