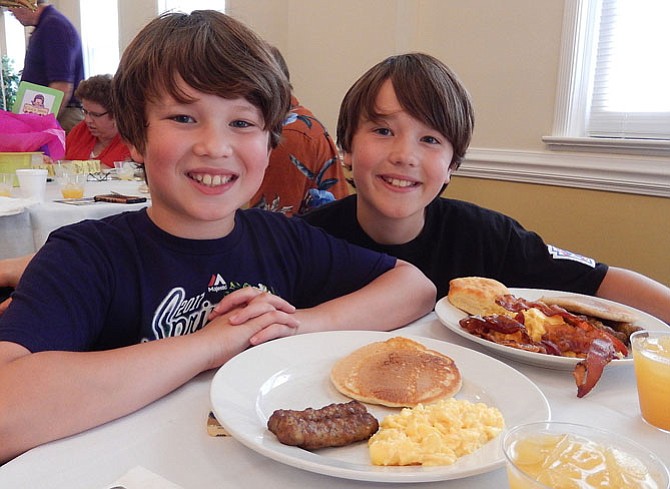 In 2013, teacher Jay Coakley began Ellie's Hats to cheer up one of his students, a then-5-year-old named Ellie, who'd been diagnosed with leukemia. When she lost her hair from her treatments, she wore hats to school every day, so Coakley organized a hat drive to get her more.
Realizing he could bring similar happiness to other young cancer patients – and also raise awareness about the disease – he founded the nonprofit Ellie's Hats. And on Saturday, May 5, from 8-11 a.m., the third annual Ellie's Hats Pancake Breakfast fundraiser will be held at American Legion Post 177, 3939 Oak St. in the City of Fairfax.
An extensive breakfast-buffet menu will be offered, including a pancake bar with toppings such as whipped cream, chocolate chips, blueberries and strawberries. Attendees may also feast on eggs, bacon, sausage, ham, hash browns, biscuits and gravy, fruit, juice and coffee. Cost is $15, adults; $5, children; $35, family. Tickets are going fast, but they may still be purchased at https://birdeasepro.com/ElliesHatsPancakeBreakfast.
The Sons of the American Legion are donating their time and efforts to prepare the meal. And new this year, said Coakley, "We have invited 25 families who have been affected by childhood cancer to join us at no cost. We are able to do this because of generous people who donated so we could provide tickets to these families."
The event will also feature a raffle. "This year, we are excited to have many of our supporters donating elaborate baskets," said Coakley. "They have themes including: Wine and Cheese, Beach, Girls Spa and Sleepover, Superhero, Princess, Date Night, Fitness, and Skincare. We also have prizes generously donated from Bowl America, Flight Trampoline, Rodan & Fields, Beachbody, Gray Kitty Boutique, and Keep Collective Jewelry."
Hoping for a good turnout, Coakley said, "The proceeds will enable Ellie's Hats to continue donating hats to children battling cancer. But Ellie's Hats finds other ways to help pediatric cancer patients and their families, too. This could be by donating gas cards or gift certificates or making a monetary contribution."
Ellie's Hats also works with Inova Children's Hospital to provide "Hero Bags" to newly admitted, pediatric cancer patients. They contain items chosen by the Inova Child Life Specialist that help families while their child is in the hospital.

The pancake breakfast's main sponsors are Mystek Systems, Jim Maahs and VanLahr, P.C, All State Agency Owners, and Mike and Christine Angles. For more information about Ellie's Hats, go to www.ellieshats.org.