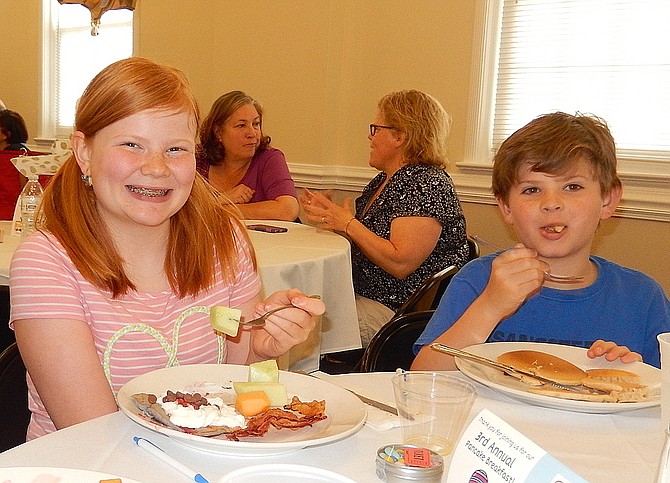 In 2013, teacher Jay Coakley began Ellie's Hats to cheer up one of his students, a then-5-year-old named Ellie, who'd been diagnosed with leukemia. When she lost her hair from her treatments, she wore hats to school every day, so Coakley organized a hat drive to get her more.
Realizing he could bring similar happiness to other young cancer patients – as well as raise awareness about the disease – he founded the nonprofit Ellie's Hats. And this Saturday, June 1, from 8-11 a.m., the fourth annual Ellie's Hats Pancake Breakfast fundraiser will be held at American Legion Post 177, 3939 Oak St. in the City of Fairfax.
An extensive breakfast-buffet menu will be offered, including a pancake bar with toppings such as whipped cream, chocolate chips, blueberries and strawberries. Attendees may also feast on eggs, bacon, sausage, ham, hash browns, biscuits and gravy, fruit, juice and coffee. Cost is $15, adults; $5, children, ages 4-12; $35, family. Tickets are going fast, but they may still be purchased at https://birdeasepro.com/ElliesHatsPancakeBreakfast.
Each year, the Sons of the American Legion donate their time and efforts to prepare the meal. The event also features a raffle with a variety of gifts donated by various businesses and individuals.
The proceeds will enable Ellie's Hats to continue donating hats to children battling cancer. But that's not all it does. Ellie's Hats also finds other ways to help pediatric cancer patients and their families by donating gas cards or gift certificates or even making monetary contributions. And when one child in a family receives hats and toys from Ellie's Hats, so do his or her siblings.
For more information about the organization – plus photos of some of the many children it has helped – go to https://ellieshats.org/.