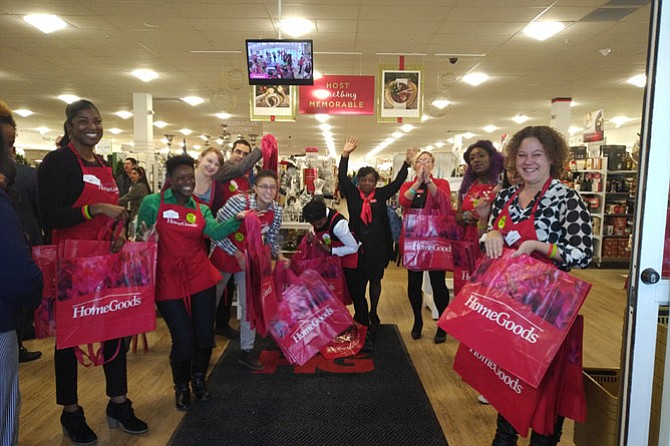 Dozens of shoppers waited in line to be among the first to check out the wares as home décor retailer HomeGoods opened the doors to its newest location Nov. 16 at Potomac Yard in Alexandria.
"I would have been here even earlier if it hadn't been for the traffic," said Constance Johnson, who traveled from Camp Springs, Md., for the 8 a.m. opening. "What can I say? I'm a HomeGoods junkie."
The 21,896 square-foot store is located in Potomac Yard at 3701 Jefferson Davis Highway in the space formerly occupied by Sports Authority. The Alexandria location is the 18th in the Washington D.C. market and is expected to fill 65 full and part time positions from the local workforce.
As part of the grand opening, a check for $10,000 was presented by HomeGoods store manager Polly Searight to Joe Meyer, president and CEO of Shelter House, a nonprofit serving homeless families and victims of domestic violence in Northern Virginia.
"We are very grateful to HomeGoods for selecting us for this grant," Meyer said. "This will go a long way to helping those in our community."
HomeGoods operates more than 570 stores across the country and is a division of The TJX Companies, which includes T.J.Maxx, Marshalls, HomeGoods, Sierra Trading Post and Homesense.
For store hours and other HomeGoods locations, visit Homegoods.com.