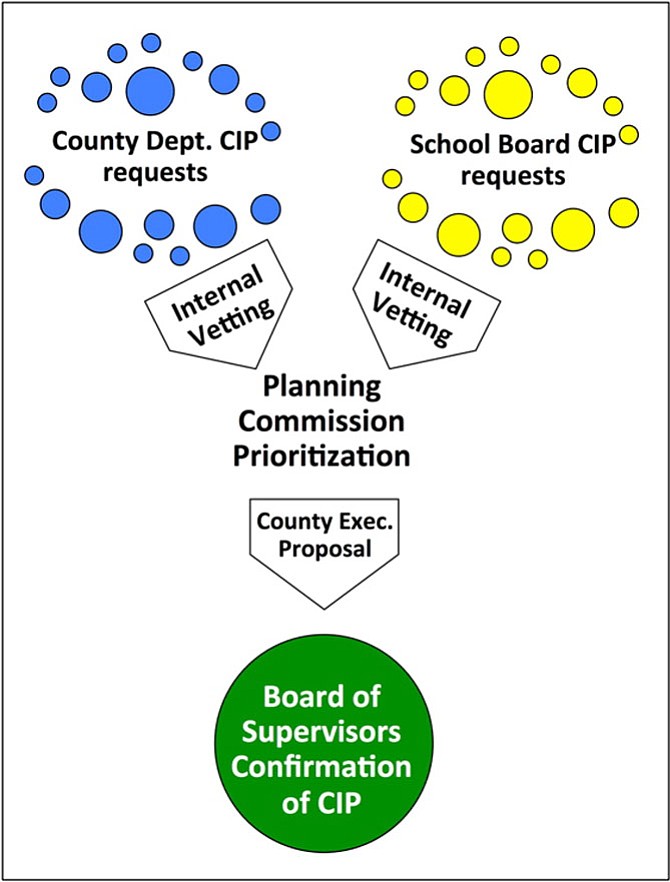 Collaborative capital planning between the city and public schools should be less ad hoc and more structured, said some advisory task force members at a Sept. 25 subcommittee meeting.
City Council charged the Ad Hoc Joint City-Schools Facility Investment Task Force to streamline specific city and public schools facilities projects in the 10-year Capital Improvement Program (CIP). The Task Force also has latitude to recommend general improvements regarding what City Manager Mark Jinks called the "kitchen sink" of capital planning and implementation processes.
Under Virginia law, providing for public education infrastructure requires the cooperation of the city or county government and the school board. Each autonomous body retains half the necessary powers to get the job done: the former raises and appropriates money and the latter controls how that money is spent.
"The amount appropriated … shall relate to its total only or to such major classifications prescribed by the Board of Education," according to the Code of Virginia. Major classifications include instruction, administration, attendance and health, pupil transportation, operation and maintenance, school food services and other noninstructional operations, facilities, debt and fund transfers, technology, and contingency reserves. "If funds are appropriated to the school board by major classification … no funds shall be expended by the school board except in accordance with such classifications without the consent of the governing body appropriating the funds." But otherwise, "Each school board shall manage and control the funds made available to [it] … and may incur costs and expenses."
Despite the cooperation necessary under this divided system, Alexandria's City Council and School Board "meet infrequently," said Task Force member Marshall Cook. During the FY18 budget cycle, for instance, the two bodies met for a joint budget work session in March. Despite general agreement that they should meet again, a subsequent work session never took place.
"They're always saying, 'Well, let's let staff get together,' at these meetings. Is that just something that's a throw-out for the public, or do you [city and schools staff members] actually try to really coordinate?" said Cook.
Assorted staff and consultants cited "regular" meetings between the city manager and schools' superintendent and between other staff counterparts; the Long-Range Educational Facilities Plan Work Group; the annual calculation of enrollment projections; and the City Council-School Board Subcommittee. "Budget and CIP issues are a frequent agenda item at the Subcommittee meetings," said Craig Fifer, a city spokesman, in a later email.
"There has not been a joint City-School budget or CIP committee, although ACPS [Alexandria City Public Schools] has previously participated on the city staff CIP development committee," Fifer added.
Such coordination notwithstanding, "we have a tendency to do it on more of an ad hoc basis, so the processes are not evenly or uniformly applied by project," said Task Force member Elliot Branch. "I would hope, as a taxpayer — and this is what I'm not seeing — is a system that has sufficient structure to kind of drive some of the implicit assumptions that both the city and schools make about this, to being explicit. And they need to be explicit … I think there are probably the roots of a process down there, having spent six year on [the city's Budget and Fiscal Affairs Advisory Committee] and three years on the schools' Budget Advisory Committee. But I don't see the level of structure that the city probably needs for a CIP of this scope and complexity."
Task Force member Eric Wagner said: "It seems to me the recommendation we should make is that that be formalized so it's not really subject to what this city manager and this superintendent [i.e., individual personalities] think; [but rather] there is a 'joint capital planning implementation work group,' which is comprised of city staff and their counterparts from ACPS staff. And their job is actually to manage this process on a consolidated basis. Each of you will have to go off and do your own work. But you're going to come together and everybody's going to know at a very early stage the work that's taking place — so for the alternatives [analyses] and for those things, that's all surfacing."
For general comparison, other Virginia jurisdictions employ various practices that are broadly coordinated, if not necessarily "joint" in any legally binding sense.
In Culpeper County, "the Board of Supervisors and the School Board meet jointly at various times throughout the year," said County Administrator John Egertson in an email.
This year Prince William County established a Joint County/School Capital Process Team, comprising a committee of county and school board members, as well as an inter-staff work group. The team's primary goal: "Optimize planning processes to ensure that County and Schools are maximizing efficiency of resources for the capital needs of [the] community," according to its charter. It will "review and direct work of staff, approve communications to each Board, solicit feedback from each Board, and provide recommendations for joint capital actions to achieve shared goals of Schools and County." The team must meet at least four times annually; this year it has already met five times, with more meetings slated through December.
James City County's Comprehensive Plan has a chapter for "public facilities," including both county facilities and schools. "Using a set list of criteria that addresses both the Comprehensive and the Strategic Plans, the Planning Commission will prioritize the [county's] departmental and [Williamsburg-James City County] School Board CIP requests," according to the county's Strategic Plan. "Based on available funding, the County Administrator will propose a CIP budget that includes Planning Commission priorities for the Board of Supervisors to review and approve."
Chesterfield County has an Audit and Finance Committee that comprises county and school board members and their respective staffs. The committee "assists the Board of Supervisors and School Board in fulfilling its oversight responsibilities for budgeting, financial reporting, internal control systems, and audit processes (internal and external). Included in this committee are focus areas of capital projects, technology and employee benefit strategies," according to the county's web site. It receives reports from the county and schools' respective Citizen Budget Advisory Committees and meets five times throughout the year. Last month the budget director overviewed the FY19 budget and CIP process for the committee. Chesterfield also has "a County-School Liaison Committee (CSLC) to address all non-audit and fiscal topics," and the same internal audit department serves both the county and school administrations.
"I don't know of anything like that attempted in the past" in Alexandria, said Vice Mayor Justin Wilson in an email, responding to the latter three examples. "[B]ut it is an intriguing idea and I look forward to discussing that recommendation with the committee when they present their findings."