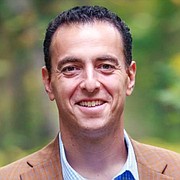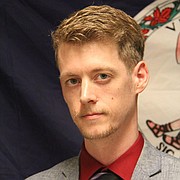 No member of the Democratic minority is as politically combative as Del. Marcus Simon (D-53). During the last General Assembly session, for example, Simon made a parliamentary inquiry about whether a Republican member who was facing domestic violence charges should be voting on changes to the code outlining assault and battery. Republicans were furious, and the speaker quickly dispatched his inquiry then systematically delayed every Democratic bill on the docket for the rest of the day. Simon's contentious parliamentary inquiry was controversial in his own caucus, and some Democrats were privately grousing about a delegate they jokingly called "chairman of the troublemaker caucus." Simon does not back down from the characterization.
"What I'm hearing from most of the things I go to is that we need to be pushing back harder, and we need to be more aggressive as Democrats and progressives in pushing our agenda," said Simon. "They want a strong progressive voice in Richmond, somebody who's going to push back against what the Republican-held legislature is trying to do, and I think that I'm in a good position to do that and be that person for them."
But how aggressive is too aggressive? And does all that resistance yield anything for constituents? Simon's independent challenger says he shares most of the same policy positions and ideology as his opponent. But, if elected, he says he would take a less confrontational tone.
"The way he carries himself down in Richmond is pretty antagonistic," said Casey. "He's running on a platform of these guys are screwing us, and the only way we are going to get good things to happen is voting Democrats in. And I think that is very negative for politics in general, and I don't think it's particularly surprising at all that Republicans aren't willing to work with him."
THE 53RD DISTRICT stretches from Merrifield in the west to Falls Church in the east and from Pimmitt Hills to the north and Strathmeade Springs to the south. Before Simon was first elected in 2013, the district was represented by Del. Jim Scott (D-53) for 11 terms. The Center for Politics at the University of Virginia ranks the 53rd House District the 18th most Democratic in the commonwealth. Democrats always win the district, usually with more 60 percent of the vote. The idea that an independent might win here seems a stretch to many people who watch Virginia politics closely.
"Independents very rarely win in Virginia," said Geoff Skelley at the Center for Politics. "Only three independents have won a Virginia House of Delegates race in recent times."
Two of those were long-serving conservative Democrats who became independents, Watkins Abbitt in the 59th District and Lacey Putney in the 19th District. The third was Katherine Waddell, who defeated conservative Republican Brad Marrs and served one term before losing to Republican Manoli Loupassi. Some independent candidates try to challenge Democrats from the left, like Gail Parker — known as "Gail for Rail" because of her support for transportation issues. She's run three House of Delegates races, three U.S. House races, two U.S. Senate races and three campaigns for the Fairfax County School Board. All were unsuccessful, although she did score 25 percent of the vote in a one-on-one matchup with Del. Mark Sickles (D-43).
"So there's little precedent for independent success in recent times," said Skelley. "Waddell is really it because the other two independents were longtime incumbents who had previously identified with a major party."
CASEY, 28, is a native of Fairfax County. He was raised in Centreville, and he's lived in Merrifield for three years. He has a bachelor's degree in electrical engineering specializing in satellite communications from Virginia Tech, and he's currently a software engineer for a Washington-based education nonprofit known as CHAP, which stands for Community Health Accreditation Partner. He says he was prompted to run in part by the 2016 election. But he says he is also motivated by the lack of competition in the 53rd District, where the Democrat usually has no opposition in the general election.
"I feel like politics has been sliding in a downward direction for just about my entire life," said Casey. "I've been seeing the rhetoric shift more and more toward demonizing the opposition, toward everything being a crisis, and I just don't think that's good for democracy."
If elected, he says his top priority would be election reform. He wants to see an independent redistricting commission, an idea Democrats rejected when they were in control and is now resisted by the Republican majority. As a delegate, he says he would also support ranked-choice voting, an electoral reform that would allow voters to signify their first and second choice for elections. Casey says he would also like to see transportation money go toward transit rather than widening roads, adding VRE lines to the western part of Northern Virginia as well as expanding bus service and Metro. He says he would vote in favor of expanding Medicaid, and he supports a public health care system run by the government. When asked about funding mental health assessments for inmates at jails, Casey says he would like to raise taxes to make that happen.
"We need to add higher income tax brackets," said Casey, who says he would support 6.5 percent rate for people who make $80,000 and up bracket; 7 percent for $400,000 and up. "I believe in progressive taxation."
SIMON, 47, is a native of Austin, Texas, although he was raised in McLean. He studied Near Eastern Studies and journalism at New York University before getting a law degree from American University Washington College of Law. He served as a captain and prosecutor in the Judge Advocate General's Corps of the United States Army before founding Ekko Title and an affiliated law firm in 2008. He says he's happy to have an opponent in the general election.
"I'm all for giving people choices, and I'd like to win an election and not just get the seat by default," said Simon. "So I'm all for people participating. I'm not at all unhappy or frustrated or angry about him being in the race. I think it's a good thing for the community."
When asked to talk about his accomplishments during his time as a legislator, Simon points to efforts to increase the minimum wage and crack down on revenge porn as well as his work expanding mental health services in the Fairfax County criminal justice system. On the minimum wage, Simon acknowledges that he hasn't been successful in implementing a $15 an hour minimum wage, but he says his efforts have "moved the needle." And as a member of the Ad Hoc Police Practices Review Commission, where he helped implement a program called Diversion First that evaluates people who may be suffering from mental health problems before they get involved with the criminal justice system. He points to the revenge porn bill as an early success.
"One of the first things I introduced when I got down to Richmond was a bill that made it a crime to share sexually explicit images of another without their permission," said Simon. "Being able to go down there my first year and take an issue that was sort of a cutting-edge issue and a newly emerging problem and see that pass my very first year, that was pretty exciting."
If he's reelected, Simon says he wants to create new state regulations for student loan servicing companies. Currently the State Corporation Commission does not oversee the industry, which Simon says is a problem he heard about from constituents all the time. He says he would also like to work against any efforts to roll back existing gun-control measures in Virginia, which are frequently the target of gun advocates.