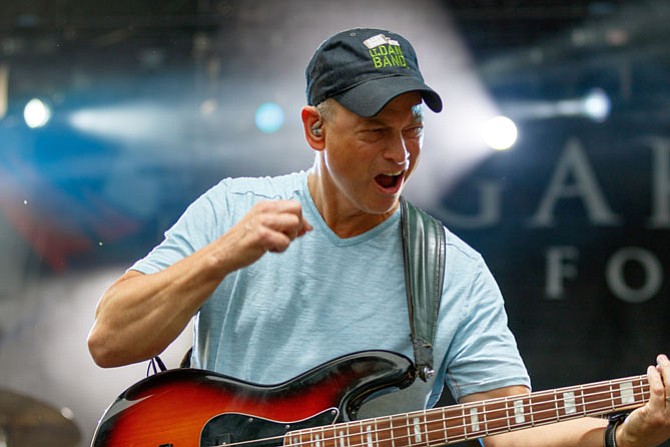 Thousands gathered at Fort Belvoir's Pullen Field Aug. 31 for the Invincible Spirit Festival, a celebration for military service members and their families that featured a performance by award-winning actor and humanitarian Gary Sinise and The Lt. Dan Band.
The festival is a signature event of the Gary Sinise Foundation and was sponsored in collaboration with USO of Metropolitan Washington-Baltimore, celebrity Chef Robert Irvine and Wawa.
"It's an honor to be back here again," said Sinise prior to taking the stage. "It's important to remind everybody how much we appreciate our military and how important they are to our country."
Now in its seventh year, the Gary Sinise Foundation has grown from a single donor – Sinise – to more than 30,000 donors.
"It's the American people who are supporting our military through the Gary Sinise Foundation," Sinise said. "We simply act as the conduit of that charity and try to do some good through various programs. The Invincible Spirit Festival is one of those programs."
The fair-like atmosphere was complete with face painters, clowns, a climbing wall, bounce houses and inflatables. Wawa provided free refreshments, including more than 2,000 pounds of hoagies. The signature event was a concert by Sinise's Lt. Dan Band, named for the character he played in the movie "Forrest Gump."
"I couldn't have pictured 23 years ago that this character would resonate beyond the movie," said Sinise of the 1994 Academy Award-winning film. "That part has led me to all kinds of great relationships with our wounded veterans and given me a chance to keep telling the story of Lt. Dan – a story of resilience and perseverance. I want to pass on that message. Even a little show of support can help and that's what we're trying to do."
The Gary Sinise Foundation stages the Invincible Spirit Festivals to provide a respite for military members and their families with a focus on wounded veterans undergoing medical treatment and rehabilitation along with their caregivers.
"We have a great group of partners here at Fort Belvoir," Sinise added. "We'll keep coming back as long as we're needed."