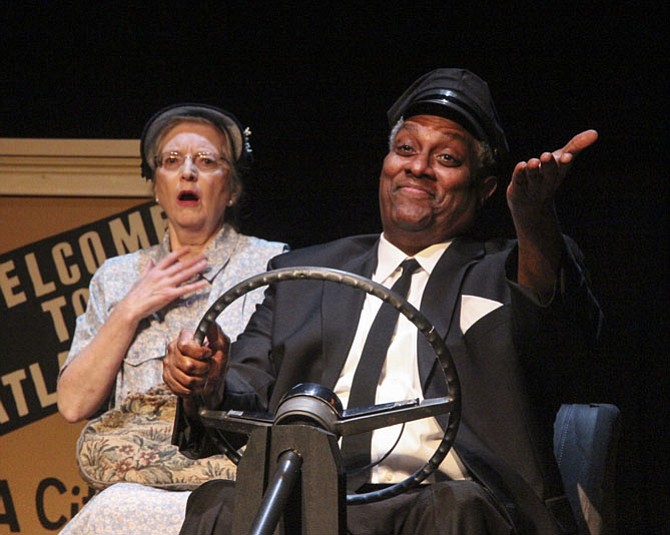 Alexandria — The Little Theatre of Alexandria (LTA) is presenting "Driving Miss Daisy" from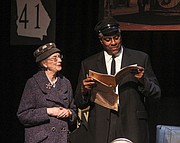 Sept. 9-30. It's 1948 in the Deep South just prior to the Civil Rights movement. The wealthy, strong-willed Daisy Wertham is a Jewish woman living in a WASP-dominated community. Hoke, a dignified, unemployed black man is hired as her chauffeur. This 1988 Pulitzer Prize-winning play spans their complex 25-year relationship to show that friendships are found in even the most unlikely circumstances.
Director Jim Howard said the many messages of prejudice, segregation, and anti-Semitism primarily in the south during this time period is always a painful thing to convey. "It's a reminder of where we've been and how far we've got to go," he said. "It strikes a chord in today's environment, I hope."
If You Go
The Little Theatre of Alexandria is presenting "Driving Miss Daisy" through Sept. 30. Performances are Wednesdays through Saturdays at 8 p.m. and Sundays at 3 p.m. Tickets are $19-$22 (plus service fees). To buy tickets or for more information, call the LTA Box Office at 703-683-0496 or visit thelittletheatre.com.
He said the challenge was to tell this story of Daisy, Hoke, and Boolie through 27 scenes and time changes without a break. "During one of those scenes the Jewish temple in Atlanta is bombed and Daisy asks Hoke, 'Who could have done that?' and his reply is one of my favorite lines in the play: "It's always the same ones," he said.
He added, "This play was a labor of love to direct. LTA provides the resources and talented people to accomplish this story telling."
Patricia Kratzer is playing the role of Miss Daisy, a widow with one son, Boolie. "She is feisty and never the diplomat … She doesn't appear to have many outside interests as she ages, only family and the synagogue," she said. "Aging can be a lonely business, particularly when her independence is threatened. So, it is no wonder that she resents the hiring of a chauffeur after she crashes her car and her son decides she can no longer drive."
She said the challenge was understanding the prejudices of the early 20th century that surrounded Miss Daisy, and Hoke growing up in Georgia took some research on her part. "Exposing her naivete of the world around her, without losing her innate goodness (she teaches Hoke to read and write) was a balancing act," she said. "Of course, the aging is difficult; we jump months and years in such a short time."
She added that we should appreciate that the history lesson in the play is as relevant today as it was those many years ago. "We need to recognize that racism and anti-Semitism are still with us today," she said.
Joel Durgavich is playing the role of Boolie Werthan, the only son of Daisy. During the show he is dealing as best he can with his aging mother as she needs more care from her 70s to 90s. He runs the family printing business and is a respected member of the business community. "Although not racist, he is concerned about how any perceived support of the advancement of rights for colored people will affect his business," he said.
Since the play spans 26 years, there were several costume and make-up changes to help depict the passage of time. "Some of the scene changes allowed for little time to complete those costume/make-up changes; so getting things done efficiently was sometimes challenging," he added.
Durgavich said, "We should take away the importance of respecting one another and at least attempting to see things from another person's perspective — (Hoke says, 'How you know the way I see, less you lookin' outta my eyes'). It is very easy to have one's own blind spots in terms of prejudice."
Kevin Sockwell plays the role of Hoke, an African-American country gentleman who ages from 60-85 during the course of the show. He describes him as "a loyal and honest man who has seen a lot of the world as a driver, father and grandfather, and being an African-American in an ever-changing South."
He said the show offers a series of vignettes so each section is an isolated piece of acting in and of itself without much build-up into a situation. So his challenge is just remembering what comes next in the show.
"As an actor, I have been trained to connect with an acting partner by looking at them and relating. As the driver, my acting partner is behind me most of the show, so I never see her face-to-face for almost the entire show but pretend to see her in the rearview mirror and need to connect," he said. "This is exacerbated by the fact that the Hoke-Daisy relationship is slightly contentious at the start, so there's little eye contact at the start."
Producer Carol Strachan said producing at LTA is exciting due to having their own theatre and not being kicked out of rehearsal space due to time constraints. "The group is extremely well organized and has a great resource of set designers, light designers, costume designers, and sound designers, and filling these key positions early on in the game is essential for a smooth-running show. The producer's job at LTA is 'never-ending,' but it is so worthwhile to work with such an organized theatre group," she said.
Strachan has been a member of LTA for more than 10 years and has produced "Scapino," "A Christmas Carol," and "Witness for the Prosecution," and has appeared on stage in five LTA plays. She's also ushered and been props designer for "A Party to Murder."