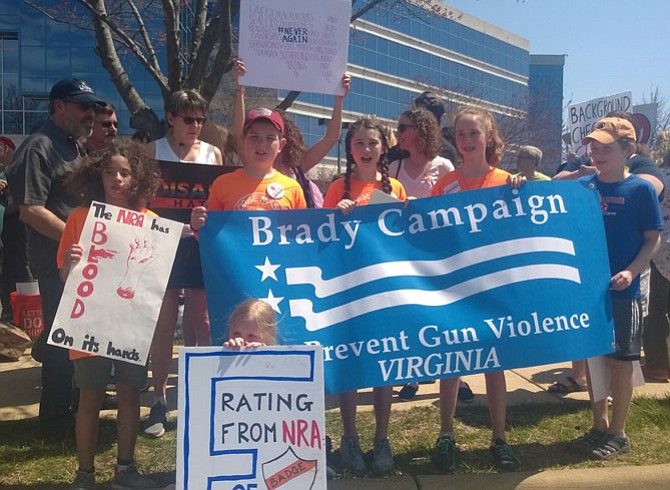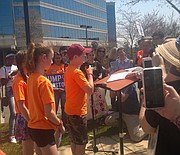 At high noon Saturday, more than 300 protesters were led by 14 youth to decry gun violence and the nation's largest gun lobby at its headquarters in Fairfax.

Although most guest speakers are too young to register to vote, they are part of a nationwide movement of youth activists so rankled with indignation about lives lost to gun violence, they want to help clean house at the next midterm election Nov. 6.
Student speakers called upon politicians whose campaigns are backed by the NRA to "stop prioritizing money over lives." They believe more firearms restrictions — not costly security measures at schools — will prevent future deaths from gun violence.
"There were a lot of kids who wanted to protest at the NRA," said Martina Leinz, president of the Northern Virginia Chapter of the Brady Campaign To Prevent Gun Violence. She said Saturday was a perfect opportunity for them to speak.
Leinz claims the grassroots activists who ordinarily organize the monthly protests stepped aside to let the guest speakers — including a survivor of the mass shooting two months ago at the Marjory Stoneman Douglas High School in Parkland, Fla. — plan the entire event themselves.
Jenny Wadhwa of the Jr. Newtown Action Alliance in Connecticut told the crowd that Dec. 14, 2012 is a day she will never forget because she survived the mass shooting at Sandy Hook Elementary School. She asked why the murder of 26 people was not enough to change the world.
"We must scream the name of every man or woman who died of gun violence," said the junior at Newtown High School in Sandy Hook, Conn., "We are never going to forget."
Other teen speakers belong to the MoCo Students for Gun Control from Montgomery County, Md., and the Northern Virginia chapter of SaveOurStudents of Prince William County, Va. According to their social media and the websites marchforourlives.com and nationalschoolwalkout.net, these students plan to gather Thursday, April 19 in Washington, D.C., outside the White House from 3:30-5 p.m. to protest the failure of lawmakers to enact laws that prevent gun violence.
The following day, they will mark the anniversary of the Columbine High School mass shooting in Colorado — that claimed 13 lives April 20, 1999 — with another national school walkout at 10 a.m. local time.
Kelly O'Neil of Alexandria is the mother of a 5th grader and guest speaker from George Mason Elementary School. She says the children are interested in maintaining the momentum of this movement and make sure it doesn't fade away.
Her 11-year-old daughter, Lily, has seen more news reports of mass shootings in her lifetime than that of her mom's 48 years. Lily understands this is not normal.
"It bothers me a lot that innocent kids are dying for no reason," Lily said.
What strikes her mother is "the purity of a child's mind that can't understand this problem hasn't been solved yet."
"It's common sense to them," O'Neil said, "guns don't belong in schools." Therefore access to guns should be regulated, she concluded.

The George Mason Elementary School parents and teachers were in awe of their students for doing their homework and preparing their own speeches to deliver last weekend — on a day when they usually relax, hang out with friends and family, or play arcade games at the Dave & Buster's in Springfield.
The adults admitted their children dragged them to the two-hour protest. "It's really kid driven," they said.
O'Neil said she is impressed by the clear-headedness of these elementary school students, who value human life over money and the political influence of gun rights groups like the NRA.
"These are very brilliant kids," Leinz said.