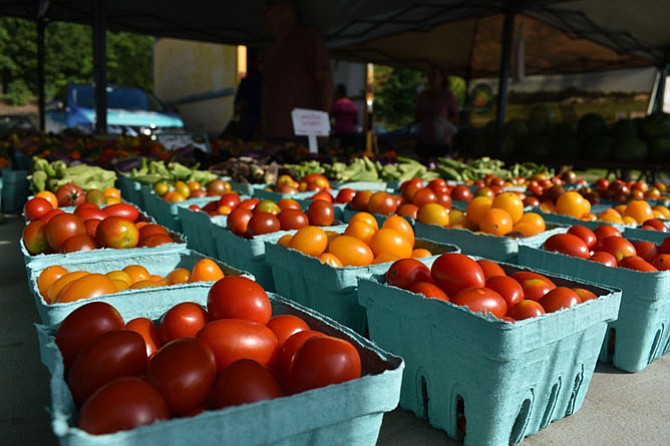 Lorton — Eight-year-old Jelp Shinholster spun a "quiz wheel" Sunday at the Lorton farmers market and watched in anticipation as it determined which category of question or riddle he would have to answer. Shinholster was one of many kids who earned prizes for correctly answering questions in an educational challenge as part of National Farmers Market Week.
"Where do eggs come from? I bet if you asked a lot of kids they wouldn't know, other than the refrigerated section of the grocery store," Master Food Volunteer Mike Perel said.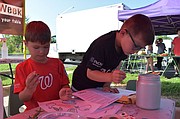 This week, seven markets celebrate National Farmers Market Week with activities for kids, games, free raffles and healthy cooking demonstrations. The event is meant to bring awareness to farmers markets and spread information about their importance.
According to Fairfax County Farmers Market Coordinator Chelsea Roseberry, these markets help support the local economy by providing farmers with an outlet for sales. Buying local also helps to reduce shoppers' carbon footprints, since the produce doesn't have to travel far to get to market.
Along with these benefits, one factor that draws a lot of people to shop at farmers markets is the high quality of produce sold there.
"The food here is so much fresher," Roseberry said. "It's so pretty and vibrant, and it smells the way food is supposed to smell – the tomato has that dirt smell – and with that also comes nutrition."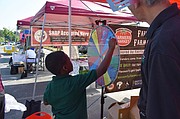 To emphasize nutrition, the markets have healthy cooking demonstrations as part of National Farmers Market Week. At the Lorton market on Sunday, intern Diana Lemus taught customers how to prolong the shelf life of produce and handed out samples of salsa made with market tomatoes.
As customers shop, they are able to speak directly with the farmers and ask questions about how the food is produced, which can't be done at a grocery store.
"I love the community the farmers market has," said Fairfax County Farmers Markets Program Assistant Hala Elbarmil. "If you don't shop there for a while, the farmers will ask about you."
In this way, farmers markets provide a personal connection between the buyer and the seller. National Farmers Market Week seeks to highlight the importance of that connection for the local farms.
"I see this as an opportunity to remind this community you're not just buying fresh food, you really are supporting small farmers and artisans from all across our region that wouldn't have anywhere else to sell," Roseberry said. "You are literally providing livelihoods to these families."