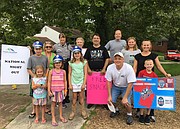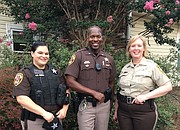 In people's yards, at community centers, pools and other spots throughout the country, firefighters, police and residents gathered last Tuesday, Aug. 7, to celebrate National Night Out. Locally, the fun included events held in Chantilly's Brookfield and Greenbriar communities.
Brookfield
In Brookfield, residents played ring toss, mingled with first responders and enjoyed cotton candy and chocolate-chip, macadamia nut and oatmeal-raisin cookies. Helping organize it all was Brookfield Civic Association President Sami Besalel.
"It's our second year doing it," he said. "We're all about intentional community. We're looking for positive interactions with our neighbors. We want people to get to know each other in a relaxed social setting, and we want to build a better and more inclusive neighborhood. National Night Out is a good opportunity for people to meet their first responders and see that they're really people in the community, just like us."
MPO Sabrina Ruck, of the Sully District Police Station, handed out reflective slap bracelets for children to wear when riding their bicycles after dark, as well as cardboard police caps, hand-sanitizer pens, toy badges and coupons from various restaurants.
She said National Night Out is important because "It's good fostering a relationship with the police and having conversations in a fun way. It helps us to build trust, have an understanding of and know more about the communities we serve and their residents."
"I think it's good for the public to get together with the police to see that we're all friends at heart," added VIPS (Volunteer in Police Service) Karen Sica. "And it helps children learn that police officers are their friends, too, and will always be there when they need us."
Greenbriar
Those attending the celebration at the Cale Community Center in Greenbriar feasted on a potluck dinner. Mission BBQ provided pulled pork and chicken, coleslaw and macaroni and cheese, and residents brought a multitude of both hot and cold side dishes, plus an array of desserts, including chocolate cupcakes, cherry pie, lemon cake and chocolate-chip bars.
It was the first National Night Out for Deputy Katie Farris, of the Fairfax County Sheriff's Office, and she was excited about it. "I love it," she said. "I think it's great any time we're able to get out and be part of the community and build that rapport with people. I'm always appreciative of the community and love serving it."
Lt. Derrick Ledford has attended many such events and was equally enthusiastic. "It's always fun because you're always greeted with smiles," he said. "Kids want to climb into our car and see how the lights work. They're not so much interested in your job, but in you."
And, added Farris, "It helps children become more comfortable with law enforcement — especially those of them who only see the more stressful side of it."
"It's good to get out and visit with the community in a social setting where people are having a good time," said Reserve Deputy Kelly Gulich. "We get to see each other on a social level and they can get to know us as people. And hopefully, it'll make them more likely to approach us if they need to."
Also at Greenbriar's celebration was Supervisor Pat Herrity (R-Springfield). He called National Night Out a "great opportunity for our citizens to show their support for our community and for the police and fire departments that support the community. We have 15 of these events going tonight in the Springfield District, and I want to go to as many of them as possible."
For Greenbriar resident Carmen Bedregal, the activity was a chance to "get together to share problems and experiences and listen to some helpful advice from the police officers. It's also an opportunity to meet more people from the neighborhood."
Meanwhile, Art Richter was attending his first National Night Out in the community, since he just moved here from Kentucky in June. "I came for the food and the ability to meet some of the people in the neighborhood we've moved to," he said. "Everything was good, especially the food from Mission BBQ — which was outstanding."