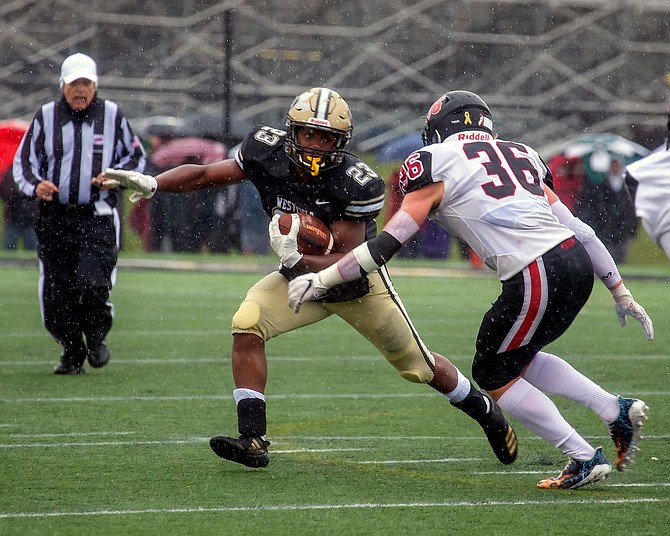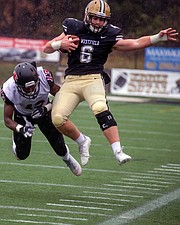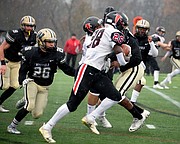 The Westfield Bulldogs (12-0) hosted and won the Virginia 6D Regional Final in Chantilly against Madison Warhawks (10-2) on Nov. 24. The two teams played earlier in the year in a conference matchup in which Westfield prevailed 17-15. Heavy rains and freezing temperatures would have an impact on the game.
After deferring the opening kickoff to Westfield, Westfield's Saadiq Hinton bobbled the opening kickoff, which was recovered by Madison deep inside Westfield territory. Moments later Brandon Walker rushed in for the game's opening points on a 22-yard run. After a successful extra point by David Louden, Madison led 7-0.
In the second quarter both teams fought the adverse weather conditions and were unable to put any points on the board. Westfield did have a possession in the final minute of the half, but Westfield Coach Kyle Simmons elected to take a knee and regroup in the locker room for the second half.
Just prior to Westfield kicking off to Madison. Westfield's Joe Clancy shouted out to teammates on the sideline, "8 points wins this. Madison will not score this half."
Madison received the second half kick. Moments later during Westfield's next possession, Taylor Morin was inserted in the Wildcat formation, which seemed to ignite the Bulldogs, with Eugene Asante and Morin running the ball. But it was Asante, the defensive player of the year in the Concorde District, who was inserted in the backfield, who burst towards the end zone before being stopped inside the 5-yard line. Asante would then rush in from 4 yards out, giving Westfield their first score with 9:50 to play in the third quarter. A successful extra point by Riley Nugent deadlocked the score at 7-7. Later in the third quarter, Madison was able to stop a Bulldogs drive resulting in Westfield senior Riley Nugent's 21-yard field goal to give the Bulldogs a 10-7 advantage under deteriorating conditions.
Then in the fourth quarter, Asante again came up big running in from 1 yard out, essentially closing the door on any Madison late game heroics. Asante finished the game with 114 yards and two touchdowns on 17 carries. Riley Nugent was again successful on the extra point, giving Westfield a 17-7 victory.
Westfield improved to (13-0) and their 37th consecutive win. They advance to play in the state semifinal game on Dec. 1 at 1 p.m., against Freedom- Woodbridge (12-1), who were winners over WT Woodson (11-2). Madison's (10-3) effort came up just short.
Clancy was correct about holding Madison scoreless in the second half but may have underestimated his team would score 17 second half points.