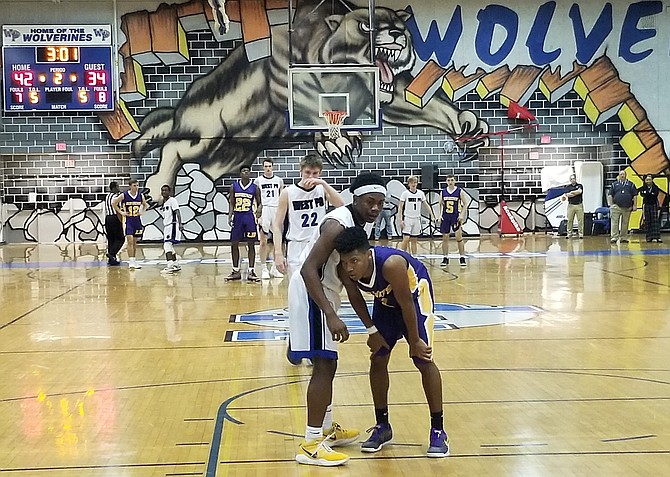 West Potomac's Daryl Mackey Jr. and Lake Braddock's Quentin James stepped onto the basketball court Monday and talked about their families.
They spent the rest of the evening talking trash.
The senior guards have been battling since they were freshmen on their respective varsity squads, back when West Potomac and Lake Braddock were conference rivals. Now that the teams are in different districts, they've been limited to one regular season matchup each of the last two seasons.
Monday's meeting might have been the final time Mackey and James compete against one another at the high school level.
They made the most of their opportunity.
James scored 36 points and led the Bruins on a furious fourth-quarter comeback attempt, but Mackey bested his counterpart with a career-high 43 points while leading the Wolverines to a 94-84 victory on Dec. 4 at West Potomac High School's Wolverdome.
Mackey and James, each listed at 6 feet, are quite familiar with one another, having faced off six times in their high school careers. They also played on the same AAU team, Team Takeover, last season. James called the rivalry "friendly, but not so friendly," with the not-so-friendly half born from healthy competition between a pair of super scorers.
"It's not like we hate each other," James said. "We had to be teammates [in AAU]. We gained respect for each other over time."
MACKEY was a potent scoring threat from the beginning of his high school career, contributing significantly as an underclassman on teams that reached the state tournament during his freshman and sophomore seasons. As a junior, he was named Gunston District Player of the Year.
Mackey plans to play college basketball but has yet to commit to a school.
James was more of a facilitator as a freshman, playing on a Lake Braddock team led by 6-foot-8 post James Butler, who plays collegiately at Drexel, and standout guard Corey Pelham, who plays at Virginia Wesleyan. James became more of a scoring threat as he got older. Last season, he produced a career-best 42 points against Fairfax.
James, who was also a standout receiver and defensive back for the Lake Braddock football team, received his first college offer from the Davidson football program a few weeks ago. James is still weighing his college options.
On Monday, Mackey and James engaged in good-natured trash talk during stretches when they defended one another.
"We always went at each other, even in practice for AAU," Mackey said. "That was something I wanted to do, was guard him. He probably wanted to guard me."
Mackey quickly took control of Monday's matchup, scoring 23 points in the first half, including five 3-pointers, as West Potomac built a 49-42 halftime lead. By the end of the third quarter, Mackey had 34 points and the Wolverines led by 13.
"When his shot is going in," James said about his opponent, "he's one of the most un-guardable players in the area."
However, Lake Braddock, which trailed by as many as 17 points in the third quarter, wasn't finished.
THE BRUINS opened the fourth quarter with a 13-1 run, during which James scored nine points. His jumper cut the West Potomac lead to 73-72 midway through the period.
"[James is] good," West Potomac head coach David Houston III said. "I've been coaching against him for four years, since he was a freshman. … He's impressive, he's hard to stop one on one. I thought we made him work and that was the key. If he had 36, it was a difficult 36."
While James led a valiant Bruin comeback effort in the fourth quarter, West Potomac never relinquished the lead down the stretch. The Wolverines built a cushion with a 9-2 run and held on for the victory.
Mackey made a pair of free throws with 43 seconds remaining, pushing him past his career high of 40 points, which he set last season against North Stafford during a holiday tournament. He added two more free throws with 17.7 seconds left to reach 43 points.
Mackey finished with five 3-pointers and knocked down 16 of 19 free-throw attempts.
"He's a dynamic player," Houston said, "and … the [colleges] that are not looking at him right now are going to regret it."
James knocked down four 3-pointers and connected on 8 of 9 free-throw attempts, including the finishing touch on a nifty three-point play.
"[James is] a great scorer," said West Potomac 7-footer Jonas Munson, who finished with 12 points in Monday's victory. "I think he's a good leader for their guys, but it wasn't enough."
West Potomac (3-0) will host Chantilly at 7:30 on Friday. Lake Braddock (1-1) will host Hayfield at 7:30 on Friday.