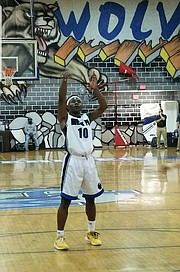 The West Potomac boys' basketball program was in unfamiliar territory last December.
Coming off back-to-back conference titles and trips to the state tournament, the Wolverines found themselves with an 0-3 record following an early-season defeat against Lake Braddock. The West Potomac roster had been weakened by the graduation of the Class of 2017 and the Wolverines were taking their lumps. While West Potomac would eventually finish runner-up in the Gunston District tournament and earn a region tournament victory over then-defending state champion Woodson, the Wolverines left plenty of room for improvement during a 9-15 campaign.
One year later, West Potomac appears to have returned to its winning ways, improving to 3-0 with a 94-84 home victory over Lake Braddock on Monday in West Potomac's home opener at the Wolverdome.
Led by reigning Gunston District Player of the Year Daryl Mackey, Jr. and an experienced starting five, West Potomac is giving fans reason for optimism early in the 2018-19 campaign. Driven by a sour taste from last season, the Wolverines have defeated Centreville, Washington-Lee and Lake Braddock.
If last year was a learning experience, it appears to be paying off.
"I think it made us angry," senior center Jonas Munson said about the Wolverines' losing record. "This offseason, I've worked out and the team has worked out more than we ever have. We were all together a lot … [and] we want to beat the teams that beat us last year."
So far, the Wolverines have earned payback against three of the teams that beat them last year. But while the results have been different, head coach David Houston III wants this group to stay hungry like it's 2017 and the squad is searching for its first victory.
"Last year at this time, we were 0-3 and it was — I don't want to say it was looking bleak," Houston said. "The kids didn't drop their heads last year. We're 3-0 now, but we need to really attack it the same way: be humble and try to win the next game."
Mackey, a 6-foot guard, has led the way for the Wolverines, grabbing a career-high 15 rebounds against Washington-Lee on Nov. 30 before scoring a career-best 43 points Monday against the Bruins.
"I think he's the best player in the area," Houston said. "I'm biased, of course, because I'm his coach."
As a freshman and sophomore, Mackey was a key point-scorer on state playoff teams loaded with veterans. Last season, Mackey was the best player on a team with a losing record. Now, with Mackey's defense, rebounding and passing having improved, and a talented supporting cast returning, the Wolverines have high expectations entering the 2018-19 campaign.
Mackey knocked down five 3-pointers and made 16 of 19 free-throw attempts against Lake Braddock. He made a pair of free throws with 43 seconds remaining to surpass his previous career high of 40 points, set last year against North Stafford during a holiday tournament.
He made two more free throws with 17.7 seconds remaining to get to 43 points.
Houston, in his 15th season as head coach of the Wolverines, said he can't remember seeing a player score 40 or more points in the West Potomac gym.
"It feels good," Mackey said. "When I get in the flow, it doesn't stop."
Houston described Mackey's 43-point performance as "quiet." Munson said Mackey doesn't act like a star.
"You wouldn't be able to tell that he just scored 43 points in a game," Munson said. "You see him walking down the hallway and he just seems like a normal guy. He's not too full of himself. He's a great teammate and a great friend."
Munson, a 7-footer who signed to play college basketball at Central Arkansas, is expected to be another key contributor. He scored 12 points against Lake Braddock on Monday and is a rebounding and shot-blocking threat at the defensive end of the court.
Joining Mackey and Munson in the starting lineup Monday were senior forward Shannon Harrigan, junior forward Jack Fricka and junior guard Bradley Harden, all of whom are experienced varsity athletes. Other returning players include senior forward CJ Gardiner, junior center Abdi Rahman Abdi, and junior guard Ethan Payne.
Harrigan finished with 15 points against Lake Braddock. Junior guard De'Andre Doherty finished with 10 and Fricka added seven.
Mackey, Munson, Fricka and Gardiner are team captains.
Next up for West Potomac is a home game against Chantilly at 7:30 p.m. on Friday.
"I'm excited," Munson said. "This is the best basketball team I've ever been on, I think. Not only talent-wise, but as a group of guys. It's exciting."