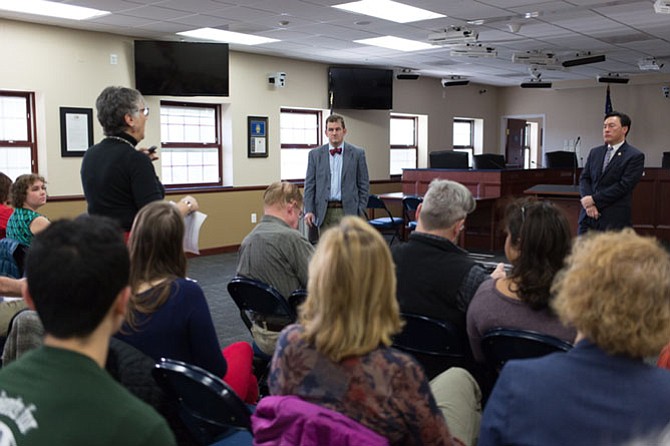 Early Saturday morning, Vienna residents filled every seat in the conference room at Vienna Town Hall to address questions to state Sen. Chap Petersen (D-34) and Del. Mark Keam (D-35).
Vienna Mayor Laurie DiRocco made introductory remarks.
The biggest local concern expressed was over a boarding house in Vienna which is sponsored by the Virginia Department of Behavioral Health and Developmental Services or DBHDS. The existing house boards up to four people who are recovering addicts and is under dispute by its neighbors.
"We object to the licensure, it's not that we don't want recovering addicts in our neighborhood," said John O'Keefe, a Vienna resident and next door neighbor.
"State law prevents neighborhoods from preventing group homes. The number of vehicles could be too many, or the number of unrelated people," said Petersen.
Redistricting, another local issue discussed at length at the meeting, creates voting districts based on residents' political affiliations.
Petersen said that districting lines were being corrupted by the computers that drew them. Keam went with a bigger picture approach, saying that it is the end result that matters most with voting.
"The bottom line is that voters need to feel motivated to get involved. It doesn't matter the district; it's about being part of the process that we call democracy," said Keam.
Statewide issues in Virginia like Medicaid and the retirement age were also discussed.
One man asked a question about raising the retirement age in Virginia to match that of other states. The retirement age can be as low as 50 years old in Virginia.
"I am completely open to looking at the retirement age. I do believe that people are going to be living longer and longer," said Keam.
Medicaid was also discussed at the meeting as well as guns, background checks, and concealed carry. Recently a law was discussed in the Virginia House of Delegates that would remove all background checks for concealed carry permits, so that anyone could carry a concealed gun anywhere.
"I am troubled that this bill was even introduced," said Keam. "You have to have a law that makes sense. We went inside the church where nine people were shot in Charleston, S.C. If it comes up I will vote against it," he said.
Petersen agreed in terms of sensible gun control legislation in the Virginia senate. "We've had concealed carry since 1994. Should we allow guns in churches? You can't carry a gun into a church under state law. That bill will get vetoed," said Petersen.
Viewpoints
What was the single most important issue for you in the Vienna Town Hall Meeting Saturday?