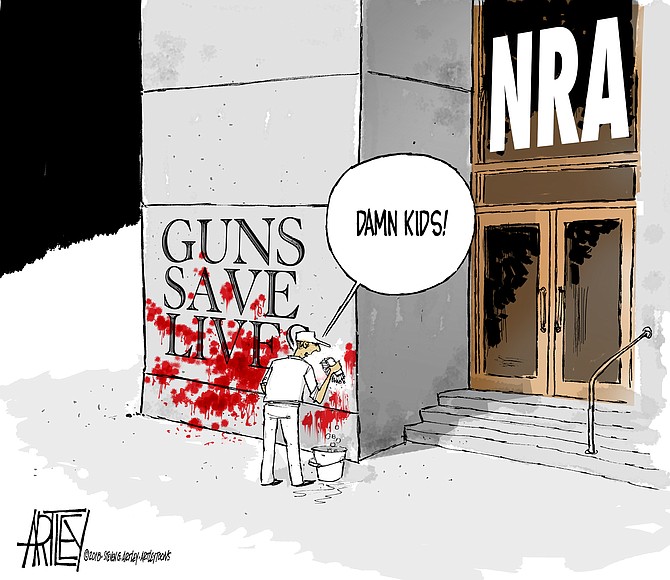 You can feel the change in the air. This time the victims — teenagers — are outraged out loud about the deaths and wounding of their fellow students, the terror, horror and trauma that will haunt each of them in different ways for the rest of their lives.
Instant activists from last week's school shooting massacre in Florida, now connected to so many others around the country, know that this was preventable, that mass shootings can be stopped.
Common sense tells them that the shooter, a former classmate, shouldn't have had access to guns of any kind, never mind an assault rifle. Common sense tells them that the absence of the most reasonable safeguards is a failure of elected officials at both the federal and state level. Common sense tells them it's time for real accountability.
Gun control of course will be complicated. No one is trying to take guns away from the millions of Americans who are gun owners, but the mavens of divisiveness, seeking to stoke the ire of gun owners, will tell them that what activists, what Democrats, what moms want is to take their guns away. It's not true. But gun reform is more complicated and runs deeper than donations from the NRA to elected officials.
Anyone with common sense knows that if we don't have systems in place to keep weapons capable of so much carnage in three minutes out of the hands of someone so openly troubled as the teenage shooter in Florida last week, then we are doomed to relive that day in other tragedies, over and over.

Demonstrations of hundreds of protesters turned out in multiple places in the last few days. At NRA headquarters in Fairfax, at George Mason High School for a candlelight vigil, in front of the White House.
"I'm with hundreds of Northern Virginians at the NRA headquarters to mourn those lost at Parkland and to demand common sense gun safety measures to protect our children from massacre and violence," U.S. Rep. Gerry Connolly tweeted from the demonstration there. "As a nation, how can we continue to allow this to happen?"
"I'm with the students calling for gun reform outside the White House," said U.S. Rep. Don Beyer. "So proud to see America's young people leading the way. Stay mad, and stay focused. … Don't let anyone tell you that there isn't hope, that we can't fight for change and win. There is and we can."
— Mary Kimm
mkimm@connectionnewspapers.com