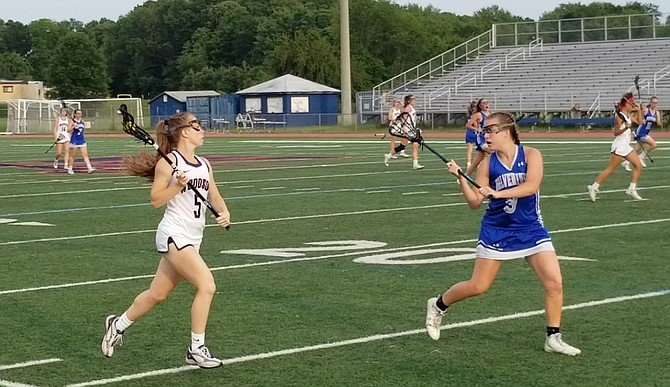 "I can't say enough of what she does for us. …She comes up big in big games. Since I've been here, she's always been huge in big moments." —Coach Bill Lewis speaking about Logan Dougherty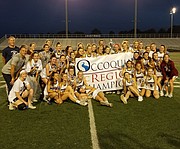 When asked about Logan Dougherty, Woodson girls' lacrosse coach Bill Lewis said the senior attacker is a "player that doesn't need to score goals for us to win games."
Dougherty, the 2018 Patriot District Player of the Year, is Woodson's all-time leading point scorer. This season, she's done most of her damage as a distributor, dishing out assists while the Cavaliers captured a district title and went undefeated against public school competition en route to Tuesday's Region 6C championship game matchup against West Potomac.
Woodson is hard enough to beat with Dougherty passing to her teammates. So, when No. 5 lit up West Potomac for nine goals on Tuesday night, the Cavaliers were pretty much invincible.
Woodson dominated the final 28 minutes and captured the Region 6C championship with a 26-9 victory over West Potomac on May 29 at Woodson High School.
Dougherty, who will play college lacrosse at West Point, added three assists as the Cavaliers steamrolled their way to their 15th win in their last 16 games.
"[Dougherty] is amazing," said Lewis, who is in his third season as Woodson head coach. "I can't say enough of what she does for us. …She comes up big in big games. Since I've been here, she's always been huge in big moments."
Dougherty scored six goals in the first half, helping Woodson build a 13-7 lead at the midway point. Her ninth goal gave the Cavaliers a 22-8 advantage with less than 13 minutes remaining.
"I just do whatever the team needs me to do," Dougherty said. "If that's assists, it's assists. If it's goals, it's goals. I just see what the defense is giving me, take what they give me and make adjustments based on what they're giving me."
While the game ended in a blowout, West Potomac made things tough on Woodson early. The Wolverines twice held one-goal leads in the opening minutes and trailed by just one late in the first half, when a goal by Clare Madden cut the West Potomac deficit to 8-7 with 3:10 on the clock.
That's when Woodson took over, closing the half on a 5-0 run. Sophomore midfielder Margaret Stephan scored the Cavaliers' final goal of the half with one second remaining after catching a long pass from senior defender Rachel Williams.
Woodson dominated the second half, outscoring West Potomac 13-2.
Lewis said the Cavaliers switched from an aggressive, double-teaming defense to man-to-man and made an adjustment with the draw. The result was Woodson scoring 18 of the game's final 20 goals.
"Once we got those things going," he said, "the offense just [followed]."
Stephan finished with six goals for the Cavaliers. Senior midfielder Natalie Gates totaled five goals and junior attacker Carlie Hartung had three.
Woodson secured a state tournament berth with a 23-2 win over T.C. Williams in the region semifinals on May 25. It's the Cavaliers' second trip to states in three seasons under Lewis. Woodson reached the state final in 2016, losing to undefeated Robinson 13-9.
"A lot of us have been there before and we know how it feels to come up short," Gates said, "so it's just all-in for the next two weeks to try and … be (one of) the last two (teams) playing."
Next up for Woodson is a matchup with Herndon in the state quarterfinals either Friday or Saturday. For now, the Cavaliers can enjoy their region championship.
"It's pretty awesome," Gates said. "…[T]o finally do it, it's just overcoming all the obstacles for the past couple years."