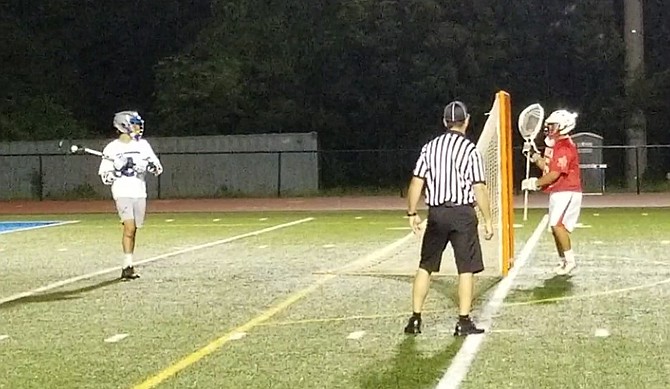 The West Potomac boys' lacrosse team is entering uncharted territory — and that's just fine with Patrick Devlin.
Six days after capturing the first district championship in program history, West Potomac defeated Annandale 17-4 on Tuesday in the second round of the Occoquan Region tournament at WPHS. The Wolverines earned a trip to the semifinals, where they will take on defending state champion Woodson on Friday. The winner secures a state berth and a trip to the region final.
How will a West Potomac program that isn't used to competing for championships handle a deep region tournament run? Use it as a positive, said Devlin, the Wolverines' junior goalie.
"I would say that we see our inexperience as an advantage," Devlin said, "and (we're) the underdog and (we have a) chip on our shoulder that we've got to prove ourselves to these … very dominant teams for the past decade or so. I think we use it as our advantage to play harder and show this whole state that West Potomac is here to play."
The Wolverines, a member of the new Gunston District, are familiar with Woodson from their days in the Patriot District. The Cavaliers beat the Wolverines twice last season by an average of 13 goals. West Potomac finished 4-8 and Woodson went on to win the state championship.
This year, West Potomac is 13-3 and took home the Gunston District title. Woodson is 15-4 and finished runner-up to Robinson in the Patriot District. The Wolverines and Cavaliers did not meet in the regular season.
Second-year West Potomac head coach John Stamos said the biggest reason for the program turnaround is senior leadership.
"We've got a great group of seniors … and they've jelled," Stamos said. "… Last year we started it, but this year they jelled together as a team and that's really been the big difference."
The Wolverines made history on May 16 when they defeated T.C. Williams 11-8 to win the Gunston District title (the game started the previous evening but was suspended due to weather) — the program's first district championship.
"It feels amazing to be the first (boys' lacrosse) team to do anything, really, for your school," Devlin said. "To not see a banner in the gym ever at West Potomac and then now we can say we were part of the team that put it together, is just unbelievable to say."
After earning a bye for the first round of regionals, West Potomac made quick work of Annandale in the second round on Tuesday. The Wolverines opened the game with seven straight goals and led 12-1 at halftime.
Sophomore AJ Stamos led West Potomac with four goals.
How does a sophomore fit in on a team with strong senior leadership?
"Everyone's pretty much a leader on this team," AJ Stamos said.
Senior captain JT Tucker and senior Zachary Woods each had three goals for the Wolverines.
Devlin didn't need to save many shots during the blowout, but Coach Stamos praised his goalie.
"Our goalie, Patrick Devlin, has been unbelievable," Stamos said. "… He's one of the big differences that (made) the kids [start to] believe. When it got into a tight game, he pulled us through with two or three unbelievable saves and that just fires everybody up."