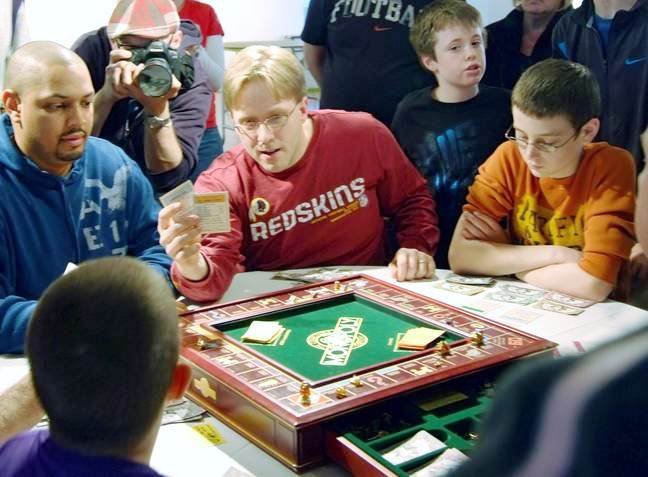 Matthew McFarland, 14, outplayed, outwitted and outlasted nearly 100 other Monopoly fans during the fifth annual Monopoly Tournament at the Workhouse Arts Center in Lorton on Saturday, Feb. 25. McFarland took home the top prize of $500, and said he might invest his winnings in stocks.

The business-savvy teen bested tournament veteran Dan Poling of Fairfax Station, who came in second and won $250. David Doty, a six-year-old destined to be a real-estate tycoon, captured third place and $100.

The Winners
First Place ($500): Matthew McFarland of Lorton
Second ($250): Dan Poling of Fairfax Station
Third ($100): David Doty of Manassas
Fourth: Bernard Sloan of Lorton
Fifth: Brian Miller of Woodbridge
Sixth: Richard Ambrow of Alexandria
"Our 5th annual Monopoly Tournament was a big success," said Ron Kowalski, a realtor with Re/Max Gateway, who co-hosted the tournament with Re/Max partner Susan Borrelli. The event raised more than $5,000 for Habitat for Humanity of Northern Virginia, Kowalski said. He said that hosting a tournament based on the classic real-estate game, and using the proceeds to benefit housing through Habitat for Humanity of Northern Virginia was a natural fit.

"Habitat for Humanity is a great cause," Kowalski said. "More than 180 children reside in these safe, decent, affordable homes, and they have a great approach to home-ownership."
This was the first year the event was held at the Workhouse Arts Center, where staff provided tours to all the game participants. Glory Days Grill in Lorton, the original venue, donated a catered lunch for the players.
"We were thrilled to be at the Workhouse Arts Center," Kowalski said. "They are donating the space, and it was a great opportunity for people to see the space."
The tournament included two 75-minute preliminary rounds of Monopoly, as, as well as a final round where the top six competitors tested their luck and negotiating skill for the top prize.

Monopoly is the world's most popular board game, according to Hasbro, which produces the game. It is licensed in more than 80 countries and printed in more than 26 languages. Since it first went on the market in 1935, more than 200 million Monopoly games have been sold worldwide, it's and is now played by an estimated 250 million people annually.

The Lorton tournament is one of many Monopoly tournaments held nationwide to assist organizations such as Habitat for Humanity in fundraising.