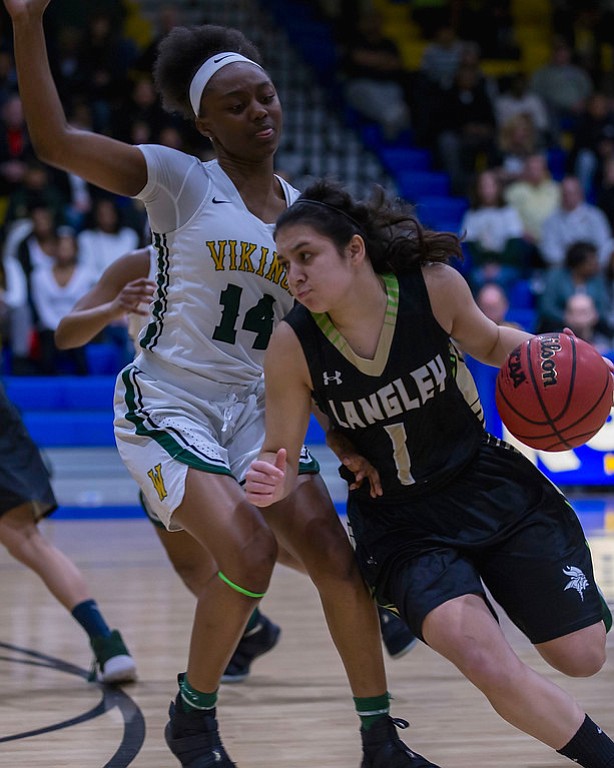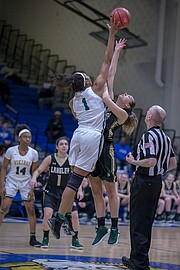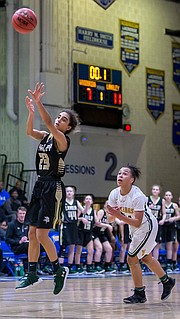 The Langley Saxon girls (19-7) faced the Woodbridge Vikings (21-4) girls in the first round of the Class 6 VHSL Championship on 3-3 at Robinson Secondary. Langley would move on to the quarterfinals with a 47-46 win and face TC Williams who advanced after defeating Marshall 50-27. The quarterfinal game will be played at Robinson on March 6. The winner of that game will take on the winner of Landstown-Cosby at the Siegel Center on the campus of Virginia Commonwealth on March 8.
The first quarter Langley came out with an early 11-7 advantage, but with seconds to play Rana Azad from Langley converted on a long range three pointer to add 3 more to her point total, giving her 11 for the quarter, single-handedly outscoring Woodbridge.

The second quarter Woodbridge fought back, outscoring the Lady Saxons 13-9 to pull within 3 at halftime, 23-20.
In the 3rd quarter, four Woodbridge players scored at least 2 points, yet Langley still held a 36-35 lead with a quarter to play.
In the fourth quarter both teams added 11 more points and Langley moved on to the quarterfinals with a 47-46 win.
Langley was led by Rana Azad's 15 points and Jordyn Callaghan's 12. Hailey Chapman and Carly Britt each added 7 points. Woodbridge was led by Jasmine Forte 's 12 points. Aaliyah Pitts and Paris McBride each added 9.