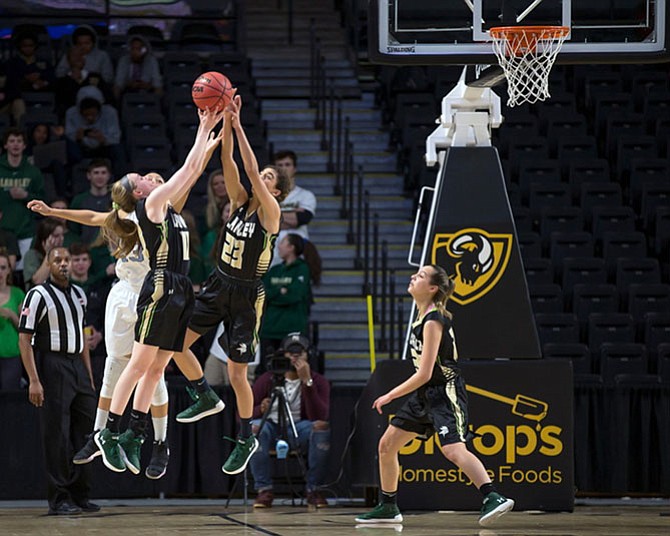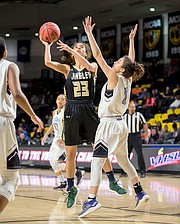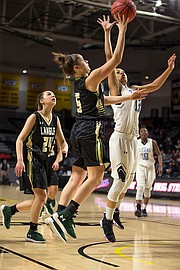 The Langley Lady Saxons advanced to the VHSL 6A tournament as the #2 seed after losing to Marshall in the regional final 44-43 on Feb. 24.
In the Lady Saxons' first round game in the VHSL State Tournament, they defeated Woodbridge 47-46 on March 3. Two nights later they defeated TC Williams HS 56-54 in overtime to advance to the Virginia 6A State Championship.
Langley faced Cosby HS from Midlothian, Virginia, winners of three of the last four 6A state titles. Cosby defeated Ocean Lakes 76-39 in the first round, then Landstown 53-44, to face Langley.
In the first quarter, Langley jumped out to an early 13-8 advantage.
Cosby then cut into the lead, outscoring Langley 14-13.
With Langley up 26-22 to start the third quarter, Cosby had their most productive quarter of the game scoring 16 and holding Langley to 11.
With the start of the fourth quarter, the Cosby girls had taken a 38-37 advantage and the 6A Championship was up for grabs. Both teams defenses would hold the opponent to low scoring in the fourth quarter with Langley narrowly outscoring Cosby 7-6, to force overtime, after Jordyn Callaghan's shot was no good in the closing seconds of regulation.
With the game in OT and the score knotted up at 44, and with 2:36 to play in overtime Langley had gained an early 4 point advantage, 50-46.
But Cosby responded, holding Langley scoreless in those closing minutes and scoring the final 6 points. With 1.9 seconds Langley had one last shot for a buzzer beater, but the in bound pass was intercepted by Nia Covington. Cosby won 52-50.

Cosby ends the year (24-4) with their fourth State championship. Langley ends the year (21-8). Langley was led by Rana Azad's 17 points. Carly Britt added 11. Nia Covington's 25 points led Cosby while Charme Lilly added 14. Azad would also add three assists, two steals and six rebounds. Jordyn Callaghan added 9 points, six assists, two blocks, three steals and three rebounds.