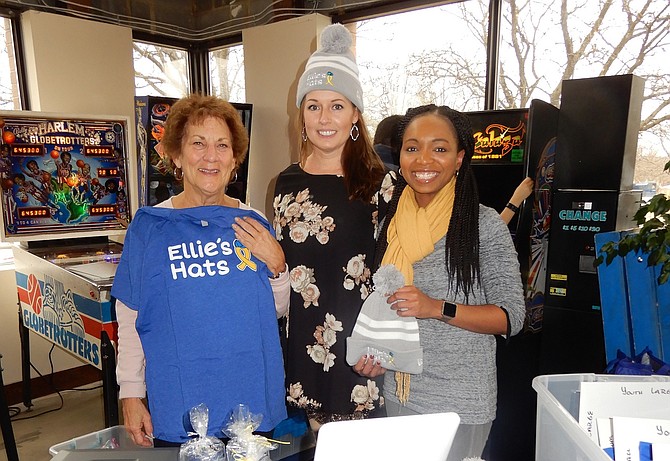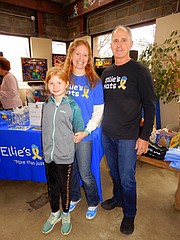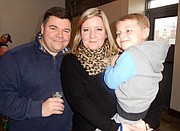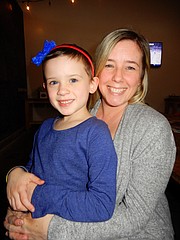 During the fifth-anniversary celebration for Ellie's Hats, children ran around playing with each other, munched on cake pops and built a tall tower of Jenga blocks. But not too long ago, some of these same children were in hospitals being treated for cancer.
So when the organization's president and founder, Jay Coakley, addressed the crowd for a few minutes, he had the children come stand beside him. Then, pointing at them, he said, "They're what it's all about."
And that's exactly right, because he started his hat effort to help one child. But seeing the difference it made in her life, he couldn't stop there. And now, with support from partners, sponsors and volunteers, Ellie's Hats has donated thousands of hats to children throughout the U.S.
Ellie Whitfield was diagnosed with acute lymphoblastic leukemia in 2013; and by the time she started kindergarten at Woodburn Elementary, she'd lost her hair and was wearing hats to school every day. Her P.E. teacher, Coakley, noticed how happy the hats made Ellie and organized a hat drive for her.
He also wanted to bring that same joy to other children suffering from cancer, while raising awareness of the disease, so he founded Ellie's Hats. Most come from hat drives held by schools and groups, such as churches and Scouts – and in every state, plus Canada and South Africa, people knit and crochet hats for the nonprofit.

The organization's motto is "More Than Just a Hat," and it's easy to see why. Besides raising the hat recipients' self-esteem, Ellie's Hats also helps their financially struggling families and contributes to hospitals and clinics treating pediatric cancer patients. Besides monetary donations, it gives them items including iPads, TVs, DVD players and gift cards.
And on Sunday, Feb. 17, the nonprofit Ellie's Hats celebrated its fifth anniversary at Mustang Sally Brewing Co. in Chantilly. Owner Sean Hunt met Coakley when he opened his business, and Ellie's Hats was the first group for which Hunt held a fundraiser. So he was delighted to host its latest event, called "Beers & Cheers."
Also attending the festivities was red-haired Ellie, herself, now 10 and in the fifth grade. "She finished treatment in 2015 and is in remission and doing well," said her mom, Jennica Whitfield. "She does plays in school, is learning basketball skills and enjoys playing with her girlfriends in the neighborhood."
Although a bit "overwhelmed" seeing such a large crowd – some 75 people – at the event, Whitfield said, "It's also exciting to see how the organization's grown – I never expected it to be so big. But it's pretty wonderful to see so many people who've supported the organization, our family and other families, as well."
Furthermore, said Whitfield, "It represents strong community, and while Ellie was very sick, one of the most important things for us was to have families come around us in support. And I know Ellie's Hats is doing this for other families in similar situations. We're just very thankful for Ellie and for Ellie's Hats."
So is Stephanie Snapkoski, whose son Drew, now 6, was diagnosed with high-risk, acute lymphoblastic leukemia (ALL) in March 2018 and has a 3-1/2-year treatment plan. He had a cold that wouldn't go away, plus tiredness and lethargy. And after his third doctor's visit in a week, his blood was tested and doctors broke the news to his parents.
"It was hard to process, at first; I was numb," said Snapkoski. "Then I went into aggressive research mode. We were lucky to be connected to the Leukemia & Lymphoma Society, which connected us to five top doctors for second opinions. Drew had a rare mutation in one of his genes, so there wasn't a lot of research into its treatment or prognosis."
Since then, he's had a great deal of chemotherapy, but it was difficult for his parents. "You want to treat your child aggressively, but don't want to expose him to a lot of toxins," said his mother. "He had nine months of aggressive treatment, in and out of the hospital. And my husband Michael – whose job kept him busy traveling – quit it so he could be home with us. Now, Drew is on maintenance treatment for 2-1/2 years, until June 20, 2021, when he's 9."
Meanwhile, said Snapkoski, "Within days of Drew being diagnosed, Jay came to us at Inova Fairfax Hospital and quickly became a longtime, family friend. The first visit, he brought hats, plus a backpack of toys and activities to keep Drew busy in the hospital – so it was more than a hat."
And whenever Drew was hospitalized, Coakley visited him and arranged for "Star Wars"-costumed people to come by, too. He also dropped by their home to see Drew. "The hats and visits helped break up the isolation and gave us another source of support," said Snapkoski.
Glad to be at the anniversary celebration, she said, "I'm so proud of Jay, and anything we can do to support him and Ellie's Hats, we're happy to do. And it's great to connect with other families [like us], too."
While in the hospital, Drew met and became good friends with another young cancer patient, Ella Borowski, and so did their mothers. So they were delighted to see each other at the party. Now 6-1/2, Ella was diagnosed in May 2018 with acute myeloid leukemia (AML).
"We thought she had allergies because she was really congested and was having trouble breathing," said her mom, Kate Borowski. "She also had swollen gums and was lethargic, so we took her to her pediatrician. We got her bloodwork back, the next day, and they told us to take her immediately to Inova Fairfax."
Ella's the middle child and has brothers, 9 and 2. And when her pediatrician told her parents what she had, said Borowski, "I felt like I was punched in the stomach. I didn't know anything about this disease or that there were different types of leukemia. I thought cancer happens to other people, not us."
With her husband away on business, she had to quickly arrange for childcare for her sons so she could take Ella to the hospital. "My husband flew home that night and met us at the hospital," she said. "And his parents drove from Michigan that night to watch the boys."
As with Drew, Ella's cancer was also treated aggressively. "She was bombarded with four rounds of harsh chemo," said Borowski. "Her last round took 6-1/2 weeks. She was treated from May until the end of October. After the first round, they did another bone-marrow test and said she was in remission. Now she has monthly blood counts, for at least a year."
Borowski met Coakley, their second day in the hospital. "Another mom there with her child told him about Ella, and he came in with a bunch of hats and a Wonder Woman backpack full of toys for her," said Borowski. "She now uses that backpack for school. He brought hats and toys for the boys, too, and came back continuously with toys and to visit. One time, he even came with the basketball players from GMU. And later, he arranged for us to go to a GMU basketball game, and we all had a blast and even got to meet the team."
"We were so overwhelmed and humbled that there are people out there who take the time out of their lives to do this," she continued. "It was nice that Jay thought of the siblings, as well. And a lot of the families he helps then get involved in Ellie's Hats, too. I'm proud of this organization, and I'm happy to attend and celebrate with him to bring awareness to Ellie's Hats."
As for Coakley, he said, "It's great seeing some of the families we've helped and some of the sponsors. But it's sad that we can't close up shop and that we're still doing this [because so many children have cancer]."
"It's also nice to see the kids I first met in the hospital now playing and doing so well," he continued. "Even some former students of mine came back for the celebration."
One of them was Kristen Dallhoff. Coakley was her high-school P.E. teacher, and they now live in the same neighborhood. "We reconnected five years ago when I was looking to participate in something that meant something and to give back," she said. "So he told me about Ellie's Hats and I started helping."
Initially, she donated hats, plus clothing to sick children's siblings when the family was in need. Then she became a board member. "Every spring, at the pancake-breakfast fundraiser, I'm in charge of the raffle, which generates several thousands of dollars."
Dallhoff also spreads the word about Ellie's Hats to bring it recognition. "Most of the hat donations come from other kids who hold hat drives at school or ask guests to bring hats to their birthday parties, in lieu of gifts," she said. "So it's kids helping kids. And our business sponsors also donate hats and help us financially."
Whenever they learn about a newly diagnosed child, said Dallhoff, they also ask about the siblings' interests so they can get them the cartoon characters, superheroes or sports-team hats they'd like and would actually wear. Pleased to be part of Ellie's Hats, she, too, was thrilled to attend the anniversary festivities.
"I can't believe it's been five years," said Dallhoff. "Now, so many people around here know what Ellie's Hats is, and it's also increasing awareness of childhood cancer and ways that children can help. This gives them an easy way to give back."