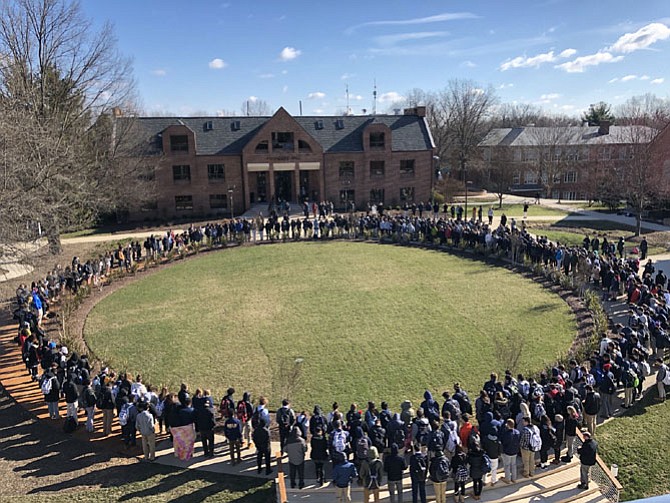 Potomac area high school students united with students across the county and the country by "walking out" of school March 14, one month after the shootings that killed 17 students and staff at Marjory Stoneman Douglas High School in Parkland, Fla.
Stoneman Douglas student survivors of the shooting quickly became activists, calling for changes to gun ownership and regulations and have gathered support from their peers.
Students from all three Potomac public high schools: Thomas S. Wootton, Winston Churchill and Walt Whitman, walked out of class at 10 a.m. and gathered for 17 minutes of silence. Another purpose of the walkouts was to highlight issues of school safety and gun violence.
Besides the students turning their silence into a voice at school, many other students skipped school for the day to join a demonstration in Washington, D.C.
"Roughly 2,500 students left school," said Meredith Hooker from the Montgomery County Public Schools Office of Public Information. "There was a higher than number of absentees than usual, but we do not know that they all [participated in the D.C. event]."
Each school had its own ceremony. Students at Churchill walked to the stadium in silence. Whitman students sat outside for 17 minutes with photos of the Parkland victims then released balloons. Wootton students walked to the stadium and, for the 17 minutes, read the name of each victim, one per minute. U.S. Rep. John Delaney (D-6) spoke to the group outside then met with them to answer questions during lunch period.
"The next generation is speaking out and taking the lead and it's inspiring to see. They're making history, they're making change and that's what I told them, I'm proud to stand with them," Delaney wrote in a press release after his time at Wootton.
Potomac's private school students were not left out of the those expressing their feelings regarding the Florida shootings and what should be done to make schools safer.
Both Bullis School and Connelly School of the Holy Child held upper school events.
Bullis student government worked with administrators to plan their event in observance of the one-month anniversary of the Parkland shooting.
"A few weeks ago, Sydney Smith, one of the [student government] co-presidents approached me about it," said Kerry Hosmer, upper school director of student life.
Hosmer said they needed to allow students to participate but also respect those who did not want to participate.
On Wednesday, between 450 and 475 upper school students walked out to the center of campus, she said.
"It was freezing, with a cold wind," Hosmer said. "It was incredibly moving to see hundreds of students in a circle recognizing this event and thinking about the future."
After the 17-minute walk-out, the students participated in breakout sessions where they could express their feelings. Those sessions included an art option, a dance option, a group devoted to compassion and sadness in which students could write letters, and political discussions.
"Many students didn't want it to end," Robert Pollicino, Upper School principal, said. "I think that's good. We don't want these conversations to end."
Holy Child posted this on twitter March 14: "Today, the Holy Child community honored the lives lost at Marjory Stoneman Douglas High School in Parkland, Florida through a Remembrance Walk and prayer service. #ParklandStrong."
Now many of these students are turning their energy to the March for Our Lives to be held in Washington, and across the country on March 24.