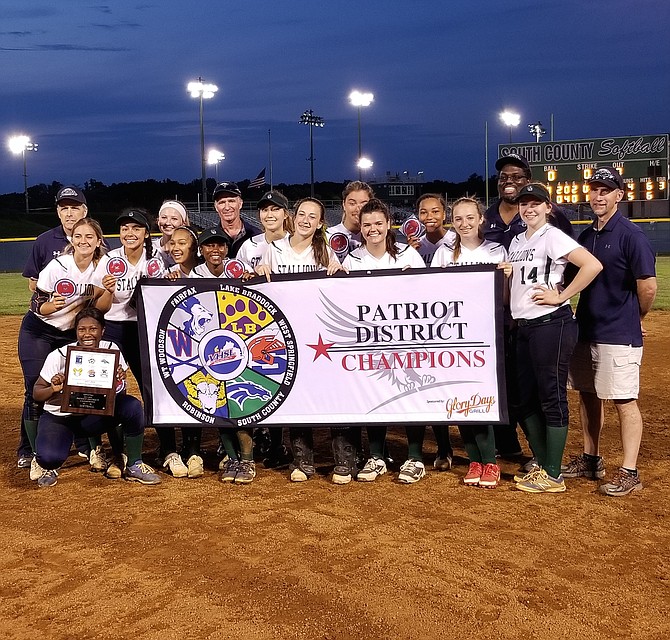 Victoria Figueroa came to the South County softball program in 2015 as a shy freshman searching for her voice.
During her four seasons as a varsity starter, Figueroa has found that the long ball is her preferred method of self-expression.
Now a senior, Figueroa, South County's all-time home run leader, used the championship stage to share her talents with rival Lake Braddock..
Figueroa's fifth-inning grand slam erased a two-run deficit, Briana Cole drove in the winning run in the bottom of the seventh and the Stallions captured the Patriot District title with a 5-4 victory over Lake Braddock on Monday at South County High School.
THE STALLIONS trailed 2-0 in the bottom of the fifth inning when Figueroa stepped to the plate with the bases loaded and two outs. She jumped on a first-pitch change up from Bruins sophomore Mia Haynes and launched it over the fence in left-center field.
"I saw that she had been throwing a lot of girls change ups first pitch, and if she knows who I am as a batter, she knows change ups aren't my favorite pitch," Figueroa said. "I kind of had something in my head tell me, hey, watch the change up first pitch. I made sure that I saw the pitch all the way through in the perfect spot to load back and hit it as hard as I can."
The blast sailed more than 220 feet and out of one of the deepest parks in the region, giving the Stallions a 4-2 lead.
It was Figueroa's fourth home run of the season and the 15th of her career—the most ever by a South County player.
"[Setting the South County home run record] was probably my biggest goal to achieve in my entire high school career," she said. "I remember coming in as a freshman being very intimidated by the older seniors playing varsity for the first year and I knew I had to make a voice. I had to show myself [and] explain who I am. … I [went] from the shy girl who did not speak at all my freshman year … to someone who wants to make a stand (and) make my name known."
Figueroa's blast energized the Stallions, who to that point had been shut out and managed just three hits off Haynes.
"From the first few innings when [the Bruins] were up, we were kind of down, didn't have the energy to pick it back up," South County catcher Emma Yates said. "And then once Vic hit it out, we were up in the dugout, we were screaming for whoever was up. We just got a lot of momentum after that and a lot energy which carried us [through the game]."
Figueroa would be named Patriot District tournament Most Valuable Player.
"She just sees the ball really well," South County head coach Gary Dillow said. "… Everything she swings at she swings at with everything she's got, but she's got such a good eye. She doesn't swing at bad pitches."
While Figueroa's blast was clutch, it was not a game-winner. Lake Braddock tied the score at 4-all in the top of the sixth when outfielder Erica Brasher delivered a two-run single. South County loaded the bases in the bottom half of the inning but failed to score.
The Stallions again loaded the bases in the bottom of the seventh—this time with nobody out—and Cole drove in the winning run with a grounder to the right side of the infield.
It was South County's first district/conference championship since 2016.
"This is so cool," Dillow said. "We're starting three freshmen and a sophomore. They're all great, but just really kind of unexpected. Coming into the season we kind of felt like we were rebuilding. We graduated six kids last year, we've got two freshman pitchers and you never know what to expect. They just came together, jelled."
Yates finished 2-for-4 for South County and pitcher Cara Martin went 2-for-3.
Lake Braddock designated player Colette Beaudoin went 2-for-3 with a pair of RBIs and shortstop Maggie Mrowka finished 2-for-3 with a double.
Martin earned the win in the circle for the Stallions. She allowed four runs on six hits in seven innings. She walked four and struck out nine.
Haynes suffered the loss, allowing five runs and six hits in six-plus innings. She walked four and struck out seven.
SOUTH COUNTY will host the winner of Mount Vernon and Woodbridge in the second round of the Region C tournament at 6:30 p.m. on Friday. Lake Braddock was scheduled to host T.C. Williams in the opening round on Wednesday, after The Connection's deadline.