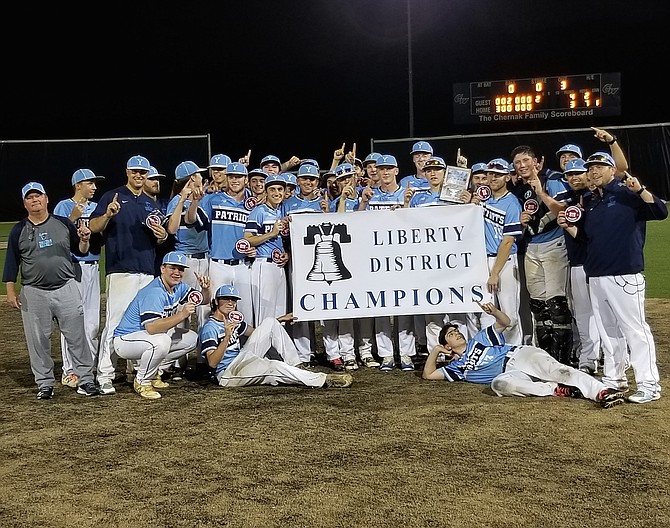 The Yorktown baseball team had managed just one hit when junior catcher Ben Koomey strolled to the plate with one on and one out in the top of the seventh inning during Saturday's Liberty District championship game.
South Lakes held a 3-2 lead and its pitcher, senior Josh Taylor, had retired 11 consecutive batters before walking Yorktown third baseman John Merlene. Now, Koomey, owner of the Patriots' lone hit, represented the go-ahead run with a chance to make Yorktown fans forget about the previous six innings of offensive struggle.
"I just knew," Koomey said, "I had to hit it hard up the middle, get a base hit, maybe more."
Koomey's version of "maybe more" would help deliver Yorktown's first district championship since 2012.
Koomey blasted a two-run homerun over the right-field wall and the Patriots came from behind to beat South Lakes 4-3 and capture the Liberty District title on May 19 at Barcroft Park.
A Koomey single, two walks, a fielder's choice and a South Lakes throwing error produced two Yorktown runs in the third inning. Otherwise, Taylor shut down the Patriots lineup for most of the evening, finishing with 12 strikeouts during his complete game two-hitter.
Yorktown, however, managed to come out victorious and earn a No. 1 seed in the Region D tournament.
Did Koomey know his seventh-inning fly ball to right would sail out of the park?
"I knew," he said, "right off the bat."
South Lakes jumped out to an early lead with three runs in the bottom of the first inning. Yorktown starting pitcher Michael Lowen struggled with his control, allowing three hits, two walks and hitting a batter in the opening frame. If Lowen hadn't struck out Seahawks left fielder Jack Howard with the bases loaded and two outs, the damage could have been worse.
Luckily for the Patriots, they were able to draw from recent experience to remain confident. Yorktown overcame an early deficit to beat South Lakes 6-5 during a regular season meeting less than two weeks prior.
"It's insane," Lowen said about winning the district title. "I've been on this team since I was a freshman. It's pretty wild that we finally made it."