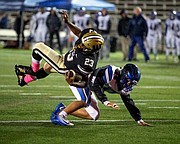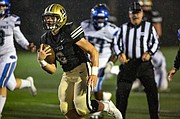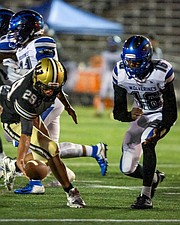 Only a week ago, the atmosphere was crazy at Francis Dall Stadium when crosstown rival Centreville visited. The outcome was a 21-0 victory for the Bulldogs. On Oct. 26, West Potomac came in for the Bulldogs' final regular season home game with heavy rain forecast.
In the opening quarter, Westfield scored when Joe Clancy rushed in from 17 yards out with 6:15 left. Later in the first quarter Eugene Asante went untouched for a 39-yard touchdown, and Westfield was up 14-0, with 1:28 to play in the quarter.
In the second quarter Westfield would score five times; on a safety, two touchdown runs, a fumble, and a kickoff return. The first of which was a safety when four Westfield defenders converged on the West Potomac QB in the end zone. Following the West Potomac kick off, Saadiq Hinton would take the ball 75 yards for a Westfield score with 10:46 to play in the second quarter, giving the Bulldogs a 23-0 advantage. Isaiah Daniel would then run in from 1 yard out with 9:07 remaining making it 30-0. Later Caleb Wheatland would scoop up a fumble after an errant West Potomac fumble that rolled into the end zone and was recovered for a TD, Westfield's lead became 37-0. But the Bulldogs were not finished, with two seconds remaining, Isaiah Daniel would score his second touchdown of the game however Westfield was unable to get the extra point and the score at halftime was 43-0.
Fifteen seconds into the third quarter, Saadiq Hinton once again took the ball 77 yards for his second touchdown of the game and Westfield was up 50-0.
Westfield would elevate their score to 57-0 with 4:52 left when Jacob Susko recovered a fumble in the endzone for their final touchdown of the game.
Westfield improves to (9-0) (3-0) with their 33rd consecutive victory, Westfield will play at Chantilly (3-5) (1-2) on Nov. 2 in their regular season finale. West Potomac falls to (2-7) (0-3) and will play at Mt. Vernon (7-2) (1-1).
Westfield rushed for 228 yards on 38 carries and 4 touchdowns. Leading the way was Joe Clancy and Isaiah Daniel who both carried the ball 6 times for 57 yards. Clancy had a touchdown and Daniel had two.