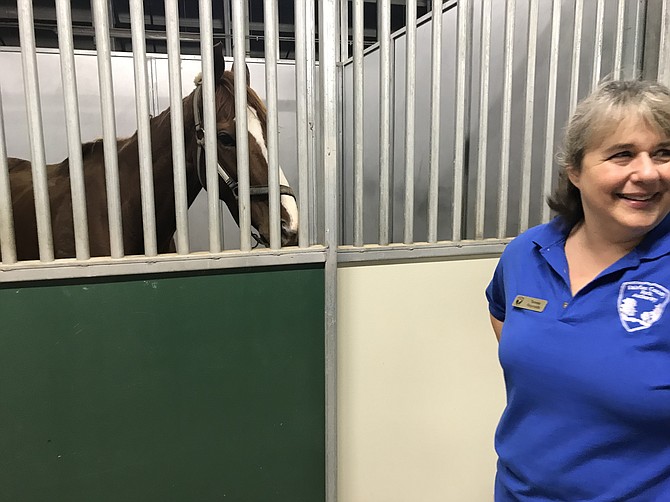 When pet owners of cats and dogs fled the pending impact of Hurricane Florence, at least there were pet-friendly shelters and hotels for owners to choose ahead of the storm. But what about horse owners forced to evacuate as the monster hurricane loomed? Leaving them behind in the havoc of a hurricane was not an option.
In preparation for Hurricane Florence, the Virginia Department of Agriculture and Consumer Services assembled a list of resources to help horse owners identify facilities that might have available stalls. Frying Pan Park in Herndon was one of only eight sites listed.
Before the hurricane hit, Fairfax County Park Authority and Friends of Frying Pan Farm Park developed a collaborative initiative to provide temporary homes for horses impacted by the hurricane. The Friends sent out notices to its approximately 6,000 members that Frying Pan Park in Herndon could help and had stalls available.
On their registration site, the Friends of Frying Pan Farm Park stated all horses needed to come with proof of a negative Coggins test and out-of-state horses were required to have health certificates. They waived stall fees for horses coming from evacuation areas and reduced them to $10 a night for all other horses. Owners had to stay in the area or arrange for care of their horses.
Most of the nine horses fleeing Florence to Frying Pan Park made their way from southern Virginia and North Carolina, reported Fairfax County Park Authority, adding that Equestrian Manager Meghan Look worked with Visit Fairfax to find lodging and food for the horse owners.
As of Monday, Sept.17, a visit to Frying Pan Park revealed that seven of the horses had returned to their homes. Two horses remained. A spokesperson for Frying Pan Farm Park said that their owner's house had flooded to the rooftop.

Frying Pan Farm Park is located at 2709 West Ox Road, Herndon. It is owned and operated by the Fairfax County Park Authority, a division of Fairfax County Government. The Friends of Frying Pan Farm Park, a 501(c) (3) organization, support the park's facilities and operations. For tax-deductible donations, visit www.friendsoffryingpan.org.