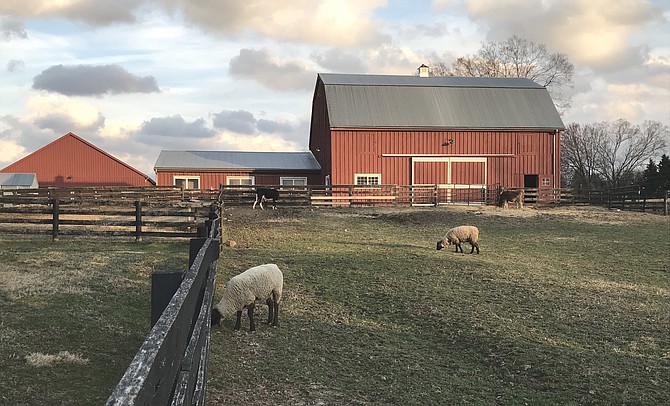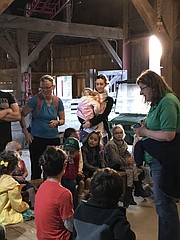 Northern Virginia Soil & Water Conservation District (NVSWCD) presented the 2018 Fairfax County Clean Water Farm Award to Frying Pan Farm Park, operated by the Fairfax County Park Authority.
NVSWCD's board of directors and staff said it "whole-heartedly recognize(s) the Frying Pan Farm Park operations as the deserving recipient." NVSWCD chose Frying Pan Farm Park for "its implementation of effective agricultural best management practices and diverse educational and outreach programs, as well as its close interactions with NVSWCD. In addition, the park's Farm and Equine Operations management was "relentless in their efforts to comply with Fairfax County's Chesapeake Bay Preservation Program." The park maintained and implemented practices recommended in the district's approved Soil and Water Quality Conservation Plan, and praised managers and staff who "work tirelessly to ensure that the entire operation is run and maintained in an exemplary manner."
"The Park Authority is very pleased that Frying Pan Farm received this recognition," said Judy Pedersen, Public Information Officer, Fairfax County in a statement. "This site and its dedicated staff have always gone the distance, to ensure things were done right with the environmental impacts of farming in mind. We serve as a model for others," she said.
The "Putting the Animals to Bed" program is an example of one of its diverse educational programs and remains one of Frying Pan Park's long-standing traditions. Patrick McNamara, Naturalist/Historian Senior Interpreter, said, "Our program combines agricultural education with the enjoyment of observing farm animals as they begin to rest for the night…"
Joseph Swingle 6, of Springfield and his brother, Andrew, 10, attended the Friday evening, March 15 program. "We're going to sing the lambs a lullaby I think," said Joseph.
"Midnight snack and a blanket sound good to me," said Andrew.

During the program, Frying Pan Farm Park Interpreters, Marge Landis and Sheree Bracco conducted a 10-minute class overview to participants. Landis described how the children would "tuck the animals in for the night… We need to make them feel calm and safe," she said. She told the children how different animals at the park slept: birds on perches, horses sometimes stood up, and the baby lambs and piglets snuggled with their mothers. Then it was off to the farm stalls and fields to put the animals to bed.
Fairfax County Park Authority operates Frying Pan Farm Park, which preserves and interprets farm life of the 1920s to 1950. It is one of the most popular parks in the county and offers a wide assortment of programs and activities. It is located at 2709 West Ox Road, Herndon.